Tigers and tigresses sent to Rajaji National Park a year ago from Corbett Tiger Reserve are now seen together. With the coming together of both, now there is a hope of increasing the tiger population in Rajaji National Park.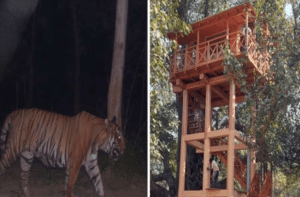 A tiger and a tigress were sent from Corbett last year in the Motichur-Dhaulkhand area of ​​Rajaji National Park. Both had gone in opposite directions and both have now met each other after a year. Both were seen together in the camera trap installed in Rajaji Park. Forest workers are happy about this. Now due to the meeting of both, there has been a possibility of increasing the population of tigers in this area of ​​Rajaji National Park. However, one tiger and two tigresses are yet to be sent from Corbett Park.
Let us inform you that the tiger was sent from Corbett National Park on 23 December 2020 and on 6 January 2021. Corbett Park veterinarian Dr. Dushyant Sharma told that the tigress has come together after a year. It is expected that now the tiger population will increase in this area of ​​Rajaji Park.
People Always ask this question that is their tigers also inside Rajaji national park. but the simple answer of this is year there are very few tigers and tigress inside Rajaji national park and they are hardly visible during jeep safari inside Rajaji national park.
I am also a YouTuber and I recorded all this complete journey for YouTube .you can watch my video there and don't forget to subscribe to this Youtube channel as I keep exploring Uttarakhand and around.
To Book Rajaji national park or Jim Corbett National Park Jeep safari.
To Book Rajaji National Park Jeep Safari Here Below is Whatsapp Link
Rajaji Park Mohand Gate Jeep Safari Video
And Also Don't Forget To Subscribe My Youtube Channel From The Above Video
Also, Read My Other Articles on Rajaji Park Forest Rest House