TREKKING IN UTTARAKHAND – Kedarkantha Trek, Nag Tibba Trek, Har Ki Dun Trek, Chopta Chandrashila Trek, Roopkund Trek, Valley of Flowers Trek, Kuari Pass Trek, Pangarchulla Peak Trek, Brahmatal Trek, Rupin Pass Trek, Dayara Bugyal Trek, Panchachuli Base Camp Trek, Bagini Glacier Trek
When you go hiking in Uttarakhand, you'll experience majestic mountains, plains covered in meadows, wild, dense woods, holy rivers and alpine lakes, and many other beautiful landscapes.
Uttarakhand, a state of mountains in northern India, is a naturally abundant region that draws travellers because of its tranquilly and easygoing charm.
Risk-takers who want to get away from the everyday grind and experience some thrill should and can arrange a trip to one of Uttarakhand's top treks.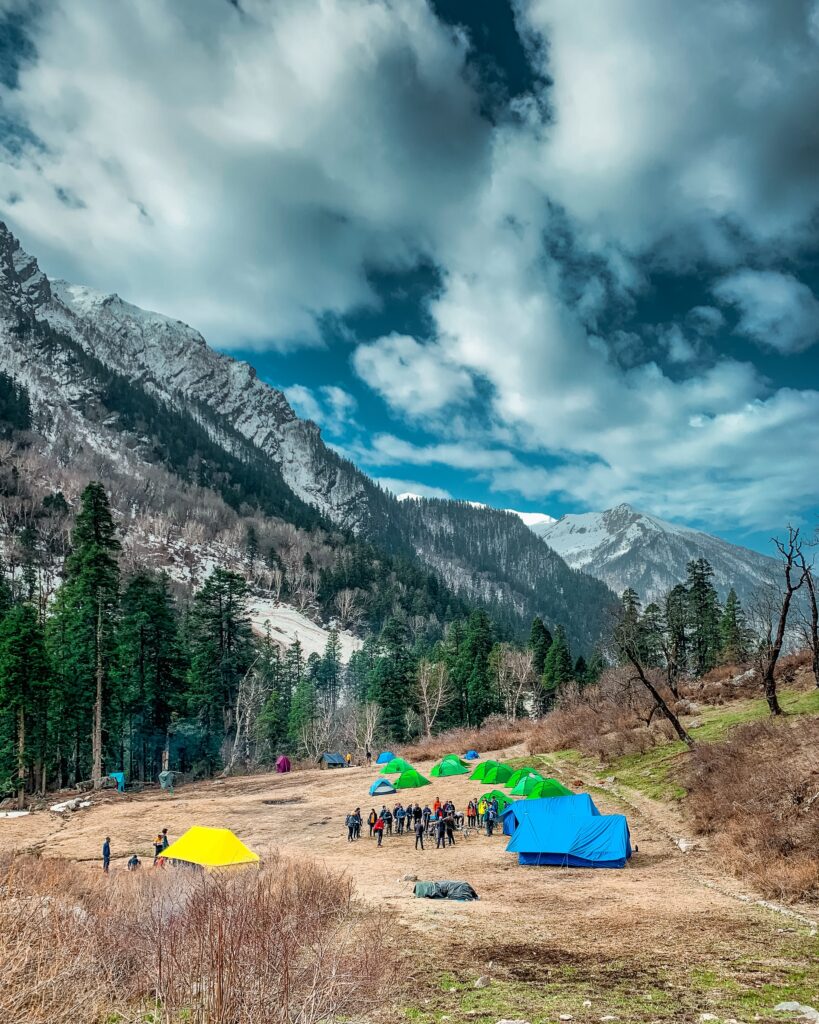 The hiking locations in Uttarakhand are worth investigating, ranging from short treks of 5 to 10 kilometres over easy terrain to the more complex and taxing adventures that last for days and cover great distances.
The "Roopkund," "Valley of Flowers," "Panch Kredar," and "Dodital Lake" treks are a few of the most popular treks that are on many people's bucket lists, among others that you can explore.
Best Trekking in Uttarakhand
Valley of Flowers Trek with Hemkund Sahib, Uttarakhand
One of the lovely treks one can visit during the monsoon season is "Foolon ki Ghati."
It is tucked away in Uttarakhand's West Himalayan area. It is at a towering elevation of 3600 metres above sea level.
The Valley of Flowers trip is one of the most well-known treks in the world because it offers the chance to see the extremely rare blue Primula.
The mystical plant that Hanuman used to revive Lakshman in the Hindu epic Ramayan was from the Valley of Flowers.
As soon as you step into the valley, the heavenly combination of flower scents transports you to a paradise.
Wildflowers, such as sedums, lilies, poppies, daisies, geranium, zinnia, and petunia, are at 14,400 feet.
Getting to Haridwar:
By Air: The closest airport to Haridwar is Jolly Grant Airport in Dehradun.
From Mumbai or Delhi, travellers can fly directly to Dehradun or take a connecting flight from any location in India.
You can hire local vehicles outside the airport to travel from Dehradun to Haridwar by road.
By train: All important nearby cities are easily accessible from Haridwar Junction Railway Station.
From Delhi and Dehradun, travellers can quickly board frequent trains to Haridwar.
By Road: Haridwar connects all major cities and towns. Thus travellers can take the bus of their choice and comfort to get to Haridwar quickly.
A sound road system connects Haridwar to Chandigarh, Delhi, Dehradun, and Nainital.
Valley of Flowers Uttarakhand Trek Facts :
Start Point and End Point: Haridwar
Trek Duration: 6D to 5N
Maximum Altitude: 14,400 ft
Valley of Flowers Trek Distance: 48 km
Temperature: Night: 4°C-10°C and Day 12°C-20°C
Valley of Flowers Trek Best Time to visit: June to mid-September
Chandrashila Trek with Chopta and Tungnath, Uttarakhand
One of the finest hikes for newbies is the Chandrashila climb, which is at an elevation of 12,083 feet and offers breathtaking peak views of the Kedar, Chaukhamba, and Himalayas.
You may get a bird's-eye view of the hike by visiting the revered Tugnath temple, which is known for being the highest Shiva temple on the entire globe.
The route to the trek passes through Rishikesh, Sari, and Chopta. It has vibrant clumps of rhododendron, oak, and pine.
You can go bird watching and have picnics by the lake while you're here.
Don't miss the captivating sight of the golden-breasted eagles from the summit.
Chandrashila Trek FACTS:
Max. altitude: 12,084 ft
Temperature range: Day: 8°C – 16°C; Night: -5°C – 3°C
Trekking distance: 17 KM
ATM: Last ATM in Ukhimath, approx 13 KM before Sari
Trekking gradient: Easy-moderate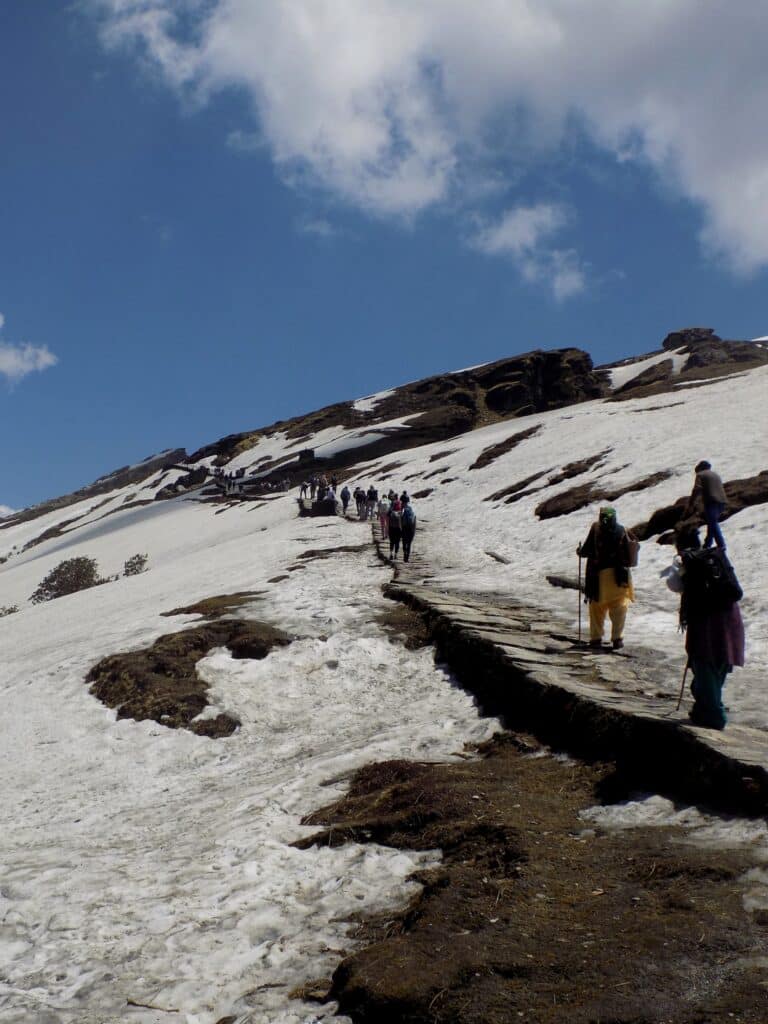 Har Ki Dun Trekking in Uttarakhand
Har ki Dun Trek is the most well-liked trek among many trekkers and environment lovers. It is nestled cosily on the hinges of the Gharwal Himalayas.
Because of its cradle-shaped mountains, this thrilling trip is also famous as a hanging valley.
Thick snow completely covers the trail in the winter, and the sun shines through the clouds. It is also famous as the winter wonderland.
The peaceful views of deodar trees surrounding the Har ki Dun trekking will enchant your spirit with the scent of pine.
Har ki Dun Trek Facts
Start & End Point: Sankri Village
Duration: 7D and 6N
Max. altitude: 11,676 ft
Har Ki Dun Trek Difficulty Level: Easy-Moderate
Har Ki Dun Trek Distance: 48 KM
Temperature: 10℃ – 15℃ in the day, 2℃ to -5℃ at the night
Best Time for Har ki Dun Trek: April to Mid-June, October to Mid-November
ATM: Purola has the last ATM before the trek begins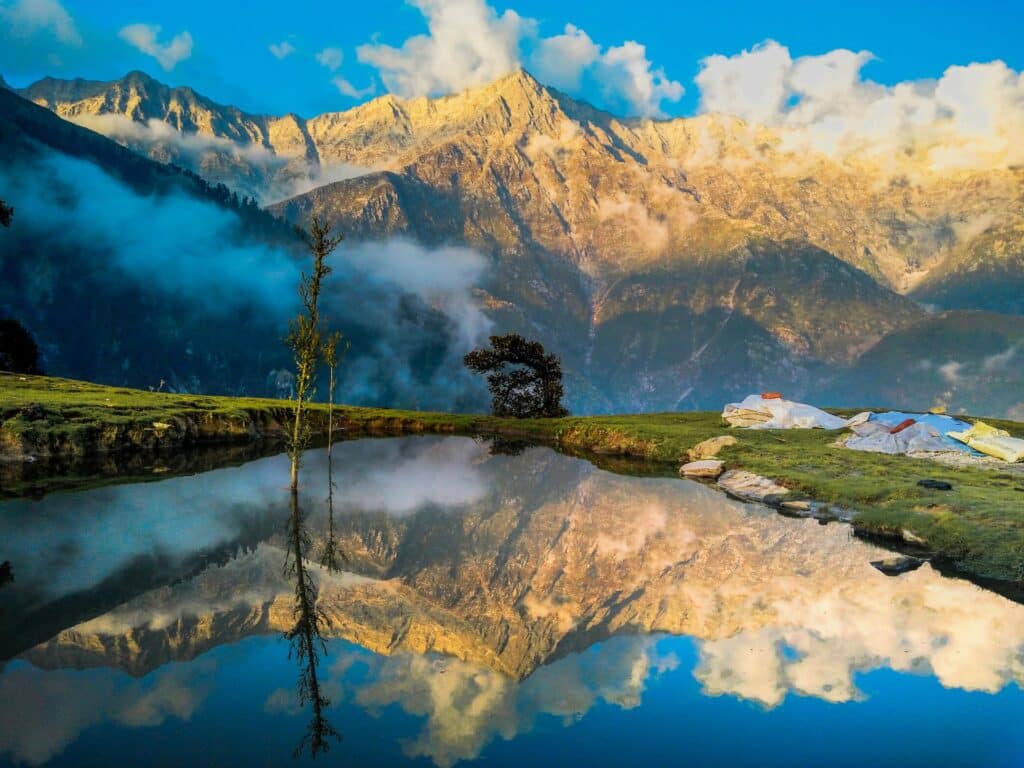 Kuari Pass Trek Uttarakhand
One of the finest trekking locations in Uttarakhand is Kuari Pass, which means gateway.
Curzon's discovery of this hiking trail in 1905 gave it the name Curzon Trail.
The Kuari Pass Trek presents spectacular views of the Neelkanth, Mana, Hathi Ghori Parvat, Bertholi, Trishul, Dronagiri, Kamet, and Nanda Devi peaks, as well as the eastern slopes of the majestic Garhwal Himalayas.
The trip features extensive rhododendron, oak, and deodar forests, making a beautiful scene.
This trail contains rare and protected species of plants and animals.
Major rivers including the Mandakini, Kaliganga, and Dhauli Ganga cross along the journey.
Facts:
Summer is the most appropriate season to travel here.
Best Season: December to January
Duration: 6 Days
Maximum Elevation: 12,516 ft
Difficulty Level: Moderate
Pangarchulla Trek Uttarakhand
Pangarchulla Peak Trek is the most famous path in the Garhwal Himalaya, adorning the Lord Curzon circuit.
The peak typically has rocky mountain terrain and snow cover.
The snow treat will be the only distinguishing feature of your wintertime excursion to Pangarchulla Peak.
The paves are encircled by magnificent snow-capped scenery, deep woods, and attractive lush foliage.
This hike, with the sun shining on its summit, offers a close-up view of the Garhwal region.
People decide to embark on this trek solely to take in the magnificent scenery of Nanda Devi, Mana, Hathi, Lampak, and Dronagiri.
Getting to Joshimath:
By Air: The closest airport to Haridwar is Jolly Grant Airport in Dehradun.
From Mumbai or Delhi, travellers can fly directly to Dehradun or take a connecting flight from any location in India.
You can hire local vehicles outside the airport to travel from Dehradun to Haridwar by road.
Rail: Arriving at Haridwar
By Train: There are frequent trains from Haridwar Junction Railway Station (IR station code: HW) to Delhi (4-5 hours) and Dehradun (1 hour).
Additionally, a few trains run to Rishikesh each day.
By Road: Since there are good bus connections from all major cities and towns to Haridwar, travellers can travel there comfortably and at their leisure.
Haridwar is easily accessible from Chandigarh, Delhi, Dehradun, and Nainital through a good network of highways.
Pangarchulla Peak Trek Facts:
Start -Endpoint: Joshimath
Duration: 6D-5N
Max. Altitude: 15,068 ft.
Trek Difficulty Level: Moderate – Difficult
Trekking distance: 39 km
Temperature: Day 18°C – 12°C, Night -3°C – -6°C
Pangarchulla Peak Trek Best Time: Apr, May, Oct, Nov
ATM: Joshimath
Railway Station: Haridwar
Airport: Jolly Grant Airport Dehradun
Kedarkantha Trekking Uttarakhand
It would be appropriate to refer to Kedarkantha as the Queen of Winter Treks, given how well-liked it is during the winter months.
It is well-liked by hikers because of the knee-deep winter snow, the captivating view from the top, and the lovely and simple pathways.
A 12,500-foot ascent is worthwhile for the panoramic views.
The Kedarkantha trip will give you an unparalleled view of the cosmos, beautiful meadows, snowy trails, picturesque villages, fragrant pine forests, sky-scraping peaks, serene rivers, and some whispers of mythological tales.
Getting to Dehradun:
By air:
Jolly Grant Airport connects major Indian metropolises.
By Train:
Dehradun has good connections to important cities around India.
By Road:
The city has excellent access to the national highway system.
One can either drive there or take a car/taxi. However, regular bus services are available to and from Dehradun.
Kedarkantha Trek – Facts
Start and End Point of Trek: Sankri village
Trek Distance: 21 km
Height: 12,502 ft
Difficulty Level: Easy To Moderate
Trek Temperature: Night: (-5°C to 3°C) and Day (8°C to 15°C)
Best Time to do Kedarkantha Trekking: April to November
Connecting Railway Station: Dehradun is the closest railway station
Airport: Jolly Grant Airport Dehradun
Nag Tibba Trekking in Uttarakhand
Nag Tibba is the most elevated peak in Uttarakhand's lower Himalayan area, rising to 3,022 metres.
The journey offers an excellent weekend getaway location for adventure seekers and takes its name from "Nag Devta."
The NagTibba trip offers the best tranquilly and thrilling trekking paths through dense jungles and meadows, making it a wonderful treat for adventure enthusiasts worldwide.
You will see stunning plants and animals, verdant mountains, and thick forests during the Nag Tibba hiking, which will captivate your heart with its beauty.
How to get there?
The trek's beginning is at Dehradun, which is five kilometres from the ISBT Bus Stop.
It is simple to use public or private transportation.
Jolly Grant Airport in Dehradun is the closest airport, which is 27 kilometres from the starting point.
Facts – Nag Tibba Trek
Start/ End Point: New Delhi/Dehradun/Pantwari (As per variant selected)
Temperature: 14°C to 2°C
Nag Tibba Trek distance: 16 km
Maximum Altitude: 9,911 ft.
Nag Tibba Difficulty Level: Easy and Short Weekend Trek
Complete Experience Trek: Jungle Trail, Himalayan Views, Meadows, Waterfalls, Snow during winter.
Safety: One of the safest treks close to Dehradun & Mussorie. No rivers for floods or does not have any history of landslides.
Rupin Pass Trekking inUttarakhand
Discover hundreds of waterfalls rushing from high mountains, appearing to fall from the sky.
Experience the grandeur of the uniquely positioned Jhaka town, which is at the mountain range, giving it the appearance of hanging out from a cliff. Rupin Pass Trek is at an altitude of 15,250 ft., giving you a picturesque and hypnotic perspective of the towering Kailash Peak.
The most striking feature of the Rupin Pass trip is that it borders two stunning states, starting in Dhaula, Uttarakhand, and ending in Sangla, Himachal Pradesh.
The Pass is at the height of 15250 feet in Himachal Pradesh's spectacular Himalayan mountain range.
From Dehradun in Uttrakhand to Shimla in Himachal Pradesh, the trip is surrounded by tiny hamlets, which provides an opportunity to discover the region's cultural splendour.
The Rupin Pass Trek is a complete experiential trek to do.
Rupin Pass Trek Facts 
• Starting Point: Dhaula Uttarakhand
. Rupin Pass Trekking Duration: 7N-8D
• Max. altitude: 15,250 ft.
• Rupin Pass Trek Difficulty: Moderate – Difficult
• Trek Distance: 52 Kms
• Temperature: Day-13°C – 18°C, Night 0°C – 7°C
• Best Time for Rupin Pass Trekking: May-June, Sep-Oct (Post Monsoon)
• ATM: Purola has the last ATM point before the trek begins.
• End Point: Sangla Himachal Pradesh
Getting to Dhaula:
By Air:
Domestic airport Jolly Grant Airport is located 20 kilometres from the heart of Dehradun.
There are frequent, daily flights to Delhi.
The closest international airport is located about 235 kilometres from Delhi.
To get to Dhaula from there, you can hire a private cab.
On a train:
Delhi, Lucknow, Allahabad, Mumbai, Kolkata, Ujjain, Chennai, and Varanasi are all connected to Dehradun via regular train service.
Depending on traffic, it should only take 10 minutes to go from the city centre to the Dehradun Railway Station, which is 1-2 kilometres away.
You can take a local state bus or a private taxi to Dhaula from the Dehradun railway station.
By Road
Through the Saharanpur Road, from Delhi to Dehradun
The 307-kilometre journey from Delhi to Dehradun takes roughly 7 hours and 45 minutes.
Despite the rough roads, the trip is enjoyable!
You can take a local public bus or a private taxi to Dhaula from the Dehradun ISBT.
Brahmatal Trekking in Uttarakhand 
One of the few winter hikes, with 2 Glacier Lake only 3180 metres above sea level and the entire trail covered in snow in the dead of winter. 
Get a view of the majestic Himalayan Ranges. 
At every turn of the Brahmatal walk, Mt. Trishul, which is strongly associated with the views of Nanda Ghunti, may be seen. 
From Brahmatal Ridge, the trail provides a glimpse into Skeleton Lake and The Roopkund. 
Prepare to learn more about Lord Brahma's past as he meditates at Brahmatal Lake in the small village of Lohajung. 
The Brahmatal trip is devoted to Lord Brahma. Moreover, it is another gem of the Himalayas that has remained unexplored by trekkers. f
It is stunningly situated in the Himalayas and completely covered in snow. 
The oak and rhododendron woodland, which dates back centuries, is visible from the route. 
You may view several Roopkund Trek sights by strolling across the meadows next to Brahamatal Ridge. 
On a clear day, looking at the distant Garhwal Mountains will completely melt your heart.
Getting to Kathgodam: 
On a train: 
One of the principal stations in the region is the historic Kathgodam station. 
It provides good access to several locations, including Lucknow, Delhi, and Howrah. 
Take the Uttar Sampark Kranti (5035), which departs Delhi at 4:00 pm and arrives in Kathgodam at 10:40 pm, or the Ranikhet Express (5014), which departs Delhi at 10:40 pm and arrives in Kathgodam at 5:30 am (overnight Journey) (6 hrs.40min. Journey).  
Take the Doon Express (4120) from Dehardun, which departs at 10:30 pm and arrives in Kathgodam at 7:10 pm (8hrs. Journey).  
By Air:
Pantnagar Airport, which is 32 kilometres away from Kathgodam, is the closest airport to the city. 
There are four round-trip flights each week between the airport and Delhi. 
From the airport, taxis are easily accessible to Kathgodam. 
By Bus:
Regular bus service to Kathgodam departs from ISBT Delhi's Anand Vihar station. 
Haldwani, a twin town of Kathgodham and the bus terminal for Nainital (8 hrs. Journey).  
Buses typically drop off passengers at the Haldwani bus station. 
You must travel the 4 km to Kathgodham Railway Station from there. 
From Kathgodham Railway Station, a Tata Sumo or a comparable vehicle will pick you up. 
We advise you only to board official buses at ISBT Anand Vihar. 
Brahmatal Trek Facts:
Start-End Point: Kathgodam
Duration:6D-5N
Brahmatal Trek Distance: 23km
Brahmatal Trek Height: 12,151 ft
Bhramatal Trek Difficulty Level: Moderate
Temperature: Day-8°C to 15°C, Night- 0°C to -7°C
Best Time for Brahmatal Trek: December – March
Nearest Railway Station: Kathgodam is the nearest railway station
Nearest Airport: Jolly Grant Airport Dehradun
Nearest ATM:

 Dewal has the last ATM point before the trek begins. It's advisable to be ready with money in Kathgodam itself.
Things to carry on a trekking in uttarakhand
Head torch

Warm clothes

Toilet paper & wipes

Backpack (50-60l)

Extra pair of socks

Fleece jackets and thermals

Hiking shoes

Mosquito Repellant

Lightweight quilt or blanket

Thermal inners

Walking shoes

Woollen cap, socks, mittens & scarf
All these wonderful treks await you. Have fun. 🙂
Video of Nag Tibba Summit Trekking in Uttarakhand
To Book Rafting Camping Tour in Rishikesh and Jim corbett Park Or Rajaji National Park Stay and Jeep Safari
Direct WhatsApp Contact – CLICK HERE
Read our other Articles – Best River Side Resort in Rishikesh
Subscribe to Our YouTube Channels for more Rajaji National Park Information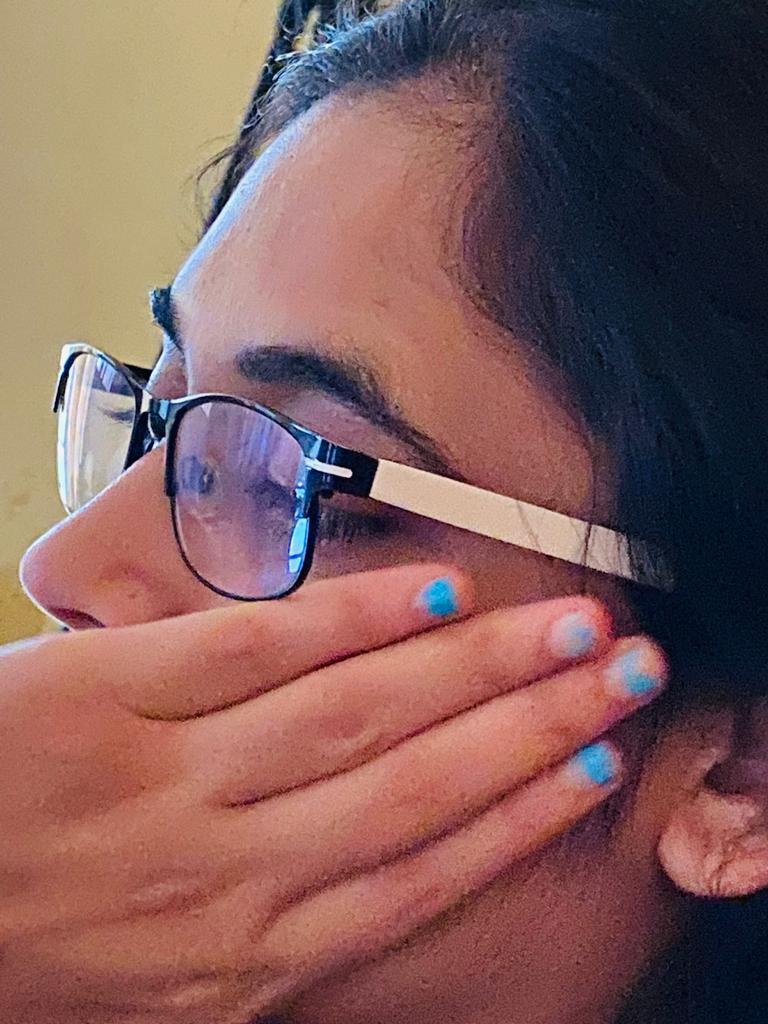 Anu is an independent writer, with a curious mind and a content soul. She believes that everything is just a colourful and colourless motif on the ever-expanding fabric of the universe. She hopes that one day magic will blossom and the whole of humanity will bow in sync to acknowledge life. And there will be a rainbow in our eyes as we sit barefoot to see life as it is. May we have peace.