Chilla Rajaji national park is a zone of Rajaji which is famous for the name Chilla. There are many other zones in Rajaji park whose name is as follow –
Motichure Rajaji national park
Satyanarayan Rajaji national park
Ranipur Rajaji national park
Mohand Rajaji national park
Kunao Rajaji national park
Asarori Rajaji national park
But today let's talk about the Chilla zone of Rajaji national park.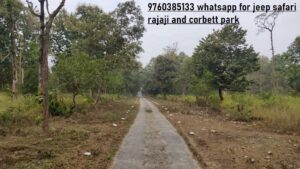 Chilla Rajaji national park is famous for which animal
Elephant sighting is very Normal inside this zone of Rajaji as lots of small and big herds Roaming here and there in search of water and food all the time.
one can see Elephant herd crossing the main chilla canal road to Reach river Ganga for bathing and drinking water.
Tourist resort chilla
There Are many Private Resorts outside or on the edge of chilla Rajaji park and only one Government chilla forest rest house and one Gmvn Rajaji park resort.
Chilla rajaji national park entry fee
The Entry Fee Keep Changing every year. So I want to give you a rough idea. jeep safari is around 2100 inr nowadays but there are more charges like jeep entry charge and per head entry charge etc. so it depends upon the number of people doing a safari.
Maximum 6-7 people can sit inside one jeep safari in Rajaji park.
chilla jungle safari
Chilla jungle safari trek is 28km long which took approx 3 hours of jeep safari time. driver take a deep jungle Round anticlockwise. morning safari time is 7 am and evening safari time is 2 pm.
Rajaji national park safari booking
To Book Rajaji National Park Jeep Safari Here Below is Whatsapp Link
Rajaji Park Mohand Gate Jeep Safari Video
And Also Don't Forget To Subscribe My Youtube Channel From The Above Video
Also, Read My Other Articles on Rajaji Park Forest Rest House