Neem beach Rishikesh is a sand beach in the Rishikesh city of Uttarakhand. this beach was formed on the bank of river Ganga. this is the only beach in Rishikesh which is car accessible.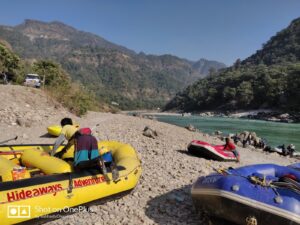 Neem beach location
Neem Beach Location is just next to aloha on the gange resort. To visit Neem beach one has to cross all Badrinath road in Rishikesh and where the market ends there is the last road on the right side leading towards aloha resort is the same road for This beach.
Here is the Google map Location of Neem beach
Neem Beach Video
Goa beach Rishikesh
Goa Beach is also Another beach in Rishikesh just like neem beach and can be accessed only via trekking from the main Neel Kanth road.
Goa beach is situated just opposite of neem beach as one can see goa beach from neem beach.
Goa Beach Rishikesh Video
Goa Beach Rishikesh Location
Best time to visit this beach in Rishikesh
Neem beach can be visited any time but the best time is daytime. in winter during sun time but in summer early morning or in the evening. During summertime, this beach temperature is really high and there is no tree around to sit under.
BUT I would like to suggest you my beach and that is Ram jhula beach. Ram jhula beach is just situated beside ram jhula and in the evening lots of people start gathering there for music and yoga and games. the sunset there is really mesmerizing.
Rajaji national park safari booking
To Book Rajaji National Park Jeep Safari Here Below is Whatsapp Link
And Also Don't Forget To Subscribe My Youtube Channel From The Above Video or here https://www.youtube.com/subhashchaudhary
Also, Read My Other Articles on Rajaji Park Forest Rest House