Sonanadi Wildlife Sanctuary, also known as Sona Nadi Wildlife Sanctuary or simply Sonandai, is a vital wildlife reserve between the two well-known national parks of Corbett and Rajaji in the Uttarakhand region of India. It spans a territory of 301 square kilometres. It has gained popularity as a tourist destination because of its diverse flora and fauna, which thrives particularly well to the north of the Sonanadi River. The Asiatic Elephant, as well as the tiger, cheetah, sambhar, leopard, and reptiles, love to hang out in this area. At Sonanadi Wildlife Sanctuary, visitors can see more than 150 different species of birds in their natural habitat.
The reserve is also the only protected area where walking is permitted. As a result, it is teeming with several non-venomous snake species, and visiting here is a one-of-a-kind experience.
Sonanadi, a gorgeous Nainital area reserve, benefits from the splendour of the Plain and Mandal rivers. The Vatanvasa gate provides entry to the Halduparao Forest Rest House, a functioning facility within the Sonanadi Reserve. thick sal and bamboo covering
A fantastic location for those seeking the embrace of nature and nirvana, complete with the sound of birds chirping and a sense of peaceful coexistence with the wildlife. The Sonanadi Wildlife Sanctuary, established on January 9th, 1987, is fundamentally connected to "Project Tiger," which started in 1973. Together, Sonanadi Wildlife Sanctuary and Jim Corbett National Park are home to the world's second-largest panther and tiger population.
The Sonanadi Wildlife Sanctuary's fauna
Rare creatures, including Asiatic Elephants, Tigers, Barking Deer, Sambhar, Cheetal, Wild Bear, and many Reptiles, use the sanctuary's marshes as their abode. The refuge is also home to around 600 birds, both migratory and resident, and has a thriving avian life. The migrating birds travel to this sanctuary in search of a warm winter residence when their primary adobe becomes colder during the season.
Some bird species present at the Sonanadi Wildlife Sanctuary include falcons, warblers, hornbills, Himalayan bearded vultures, pheasants, wall creepers, thrushes, changeable hawk eagles, emerald doves, flycatchers, and brown fish owls.
Some of the rarest medical plants in the nation can be found in the sanctuary's flora, along with a few shrub species listed as endangered.
At the Sonanadi Wildlife Sanctuary, the famous Jeep Safari
There is a facility for tourist jeep safaris so they can enjoy the diversity and beauty this location has to offer. As exciting as it is, it gives you a glimpse into the native habitat of the local animals and birds. Of course, one of the most well-known hobbies here is looking for tigers, but safety comes first.
The Sonanadi Wildlife Sanctuary also offers elephant safaris. At the sanctuary's Ramnagar office, tickets for these safaris can be reserved in advance. The Sonanadi Wildlife Sanctuary is available to visitors from June 15th to October 15th and is closed during the monsoon season.
Visit Sonanadi Wildlife Sanctuary at these times:
The sanctuary has varied hours throughout the summer and the winter.
Summer morning safari hours are from 7:00 am to 10:00 am.
Safari in the evening: 2:00 to 5:30
6:00 am to 9:30 am for the Winters Morning Safari
Evening Safari: from three to six o'clock
Optimal Period to Visit Sonanadi Wildlife Sanctuary
Since the majestic Asiatic Elephant migrates to this area between November and February to enjoy the monsoon, these are the most OK months to visit the Sonanadi Wildlife Sanctuary.
Sonanadi Wildlife Sanctuary lodging
You can reserve one of the rest houses at Rathuadhab, Lohachaur, or Halduparao to have a comfortable and nostalgic stay at the sanctuary. Additionally, we have a carefully curated list of businesses that handle traveller accommodations and logistics so they may have a relaxing and enjoyable holiday.
Things to do around Jim Corbett National Park and Sonanadi Wildlife Sanctuary
One of the most famous traveller attractions in the neighbourhood is the Corbett Museum. When renowned hunter and naturalist Jim Corbett visited, it served as the home of his collections. At the Dhangadi Gate is the Corbett Museum.
Another popular spot is Corbett Falls, located 28 miles from Sonanadi Wildlife Sanctuary.
The local goddess in the area is known as Garjiya Devi, and her temple is magnificent. Only 15 kilometres away, the Garjiya Devi temple is a must-see. It is located at an elevation connected by steep stairs near the banks of the river Kosi.
the Sonanadi Wildlife Sanctuary's location
Because of its size, the Sonanadi Wildlife Sanctuary may be reached from many points within the Jim Corbett National Park, including Kalagarh, Vatanvasa Gate, Durgadevi Gate, and Kotdwar.
Jim Corbett National Park is easily accessible thanks to its excellent connectivity to other motorable roads and major highways.
By Air:
The closest airport, located about 80 kilometres from Jim Corbett National Park, is Pantnagar Airport. Numerous taxis run between the airport and the national park. For additional connection, there are multiple daily flights from Delhi to Pantnagar.
By Rail:
The Jim Corbett National Park is 5 kilometres from the nearest train station, Ramnagar, if you're taking the train. Major cities in India and Uttarakhand are easily accessible by motorable roads from Ramnagar Railway Station. Many trains from across the nation travel via Ramnagar, which serves as one of the sites when trains exit towards Nainital. You can travel from the Railway Station to the Jim Corbett National Park by using a private cab or auto-rickshaw.
By Road:
Both domestic and international tourists frequent the Jim Corbett National Park. Motorable highways well connect major Indian cities and the national park. From significant towns, numerous cabs go to Nainital and Jim Corbett National Park. A lot of luxurious buses also travel between Delhi and Ramnagar. These buses are available for hiring at ISBT Anand Vihar in New Delhi.
You can reserve a Sonanadi Wildlife Sanctuary trip from the best companies and explore all the park's most well-known tourist attractions without any fuss.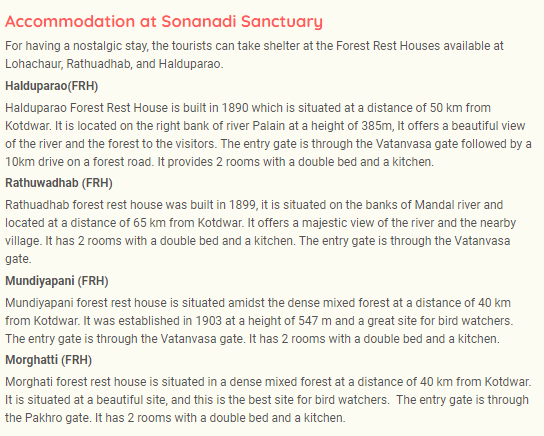 Video From park
To Book Tour in Jim corbett Park Or Rajaji National Park Stay and Jeep Safari
Direct WhatsApp Contact – Click Here
Read our other Articles – Best River Side Resort in Rishikesh
Subscribe to Our YouTube Channels for more Rajaji National Park Information
I am living in Dehradun Uttarakhand and I keep Exploring Jim Corbett National Park, Rajaji National Park, Rishikesh, and All the Other Places in Uttarakhand.