DHIKALA FOREST REST HOUSE
I have been to Dhikala forest rest house in 2017 1st time And since that year I am continuously going there.
I fell in love with Dhikala forest rest house( not only Dhikala but all Jim Corbett National park ) while my trip to Ramnagar for staying in a resort in 2016.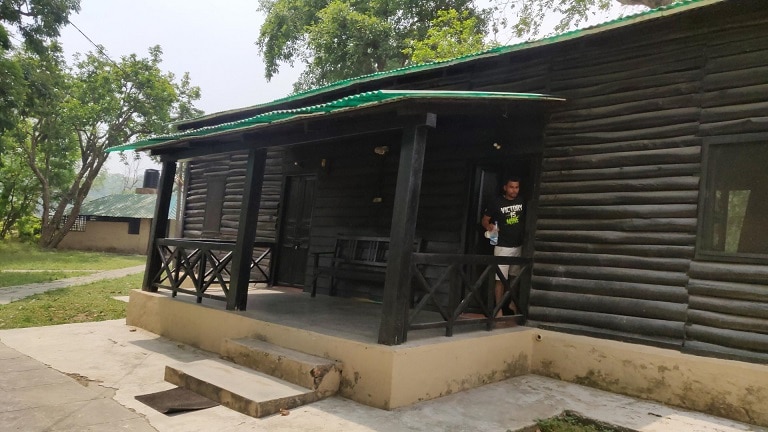 While my Spanish friends on the holiday trip to India we decided to go there for a Jeep Safari and we did Dhela zone jeep safari that was my first Jeep Safari in Jim Corbett national park.
So, in the year 2017, I was working in Sharekhan Ltd office Dehradun and I decided to do Jim Corbett National park Night Stay but I have no idea where to stay how it works how to book how much it cost, etc…
Accommodation in Dhikala
In the Corbett Tiger Reserve, Dhikala is one of the most sought-after visitor accommodations. The expansive Dhikala Chaur is home to an elephant herd and spotted deer. In addition, the Tiger Reserve is the best location to see the extremely rare Hog Deer.
Every wildlife enthusiast looks forward to their stay at Dhikala. The Dhikala zone can be entered through the Dhangari gate. Ramnagar is 18 kilometres from Dhangari Gate, and Dhikala Tourist Complex is 31 kilometres within Dhangari Gate. Tourists can visit Dhikala from 15 November to 15 June. However, it is still inaccessible throughout the monsoon season. The Dhikala tourism complex, which has a view of the Ramganga Reservoir, is a great site to see crocodiles and gharials soaking up the sun on the Ramganga's banks.
The Dhikala Forest Rest House is a place to stay.
At Dhikala, a variety of lodging options are available. The Forest Rest House, Cabins, Hutment, and Annexe, are also included. In addition, 24 bunk beds are available at Dhikala's Log Huts. The accommodations are basic but comfortable.
Services & Food: Dhikala Forest Rest House
There is an excellent restaurant for guests staying at the Dhikala Tourist Complex. The restaurant offers a varied selection of high-quality buffet dishes. Visitors can also use a modest canteen.
Visitors can spend their free time reading books in the well-stocked library or watching a wildlife movie in the evening.
The Corbett Tiger Reserve's Dhikala is the largest and most picturesque tourism zone, comprised of expansive grasslands, river beds, sal, and mixed woods. The Dhikala Forest Zone is located in the middle of Jim Corbett National Park and is controlled by the forest division that falls under that authority. The renowned Dhangarhi gate serves as the entryway to the Dhikala Tourism Zone. You must now present your permission to the forest rangers to enter. The Dhangarhi Gate is the entrance to the Dhikala Forest Rest House Range, and its hours are from 10 am to 4 pm.
If you have a quick driver, it will take around 2 hours to go 30 miles to this lovely wooded area from the Dhangarhi gate. Travelling through dense sal forests, the Ramganga River, and numerous cycle rivers are part of the highly challenging journey from the Dhangarhi gate to the Dhikala forest zone. In addition to seeing herds of deer, Sambhar deer, Barking deer, Indian hog deer, monitor lizards, Asiatic elephants, jackals, fish, and crocodiles, you might also see tigers if you're lucky. Since the Dhikala forest region is located in the middle, the location is ideal for those who enjoy wildlife.
Its prime place in the heart of the magnificent Jim Corbett National Park accounts for the lodge's constant overcrowding and a constant stream of visitors. However, the location is ideal for wildlife enthusiasts who like visiting and staying there. Since there are just a few rooms available, it is best to reserve the lodge in advance to prevent any trouble. By going to the Dhikala Forest Rest House's official website, one can make reservations for the Dhikala Forest region online.
The Dhikala Zone is only about 30 kilometres away, and you may get there by going through the Dhangarhi gate. Three hundred kilometres separate Dhikala Forest Zone from New Delhi, a distance that can be easily travelled by car, train, or even air. Overall, a great location that one would return to time and time again, always cherishing the moments spent there.
The lodge has two wings, one new and the other old, containing rooms and dorm space. It has 32 rooms overall, which can be divided into six branches. There are four all-range quarters, five all-forest rooms, six hutments, six cabins, seven annexes, and four old forest rooms.
The Dhikala Zone is only about 30 kilometres away, and you may get there by going through the Dhangarhi gate. Three hundred kilometres separate Dhikala Forest Zone from New Delhi, a distance that can be easily travelled by car, train, or even air. Overall, a great location that one would return to time and time again, always cherishing the moments spent there.
Although the 32 rooms at the Dhikala Forest Rest House are not opulent, they all have adjacent washrooms with hot and cold running water, even though each of the two dormitories contains 24 beds and a shared bathroom. With an enclosed solar wall or barrier to keep wild animals at bay, the Dhikala forest rest home range is carefully guarded. There are two canteens, one of which offers an inexpensive buffet choice, and the rooms are very roomy and airy. The food quality is decent, and the place is spotless.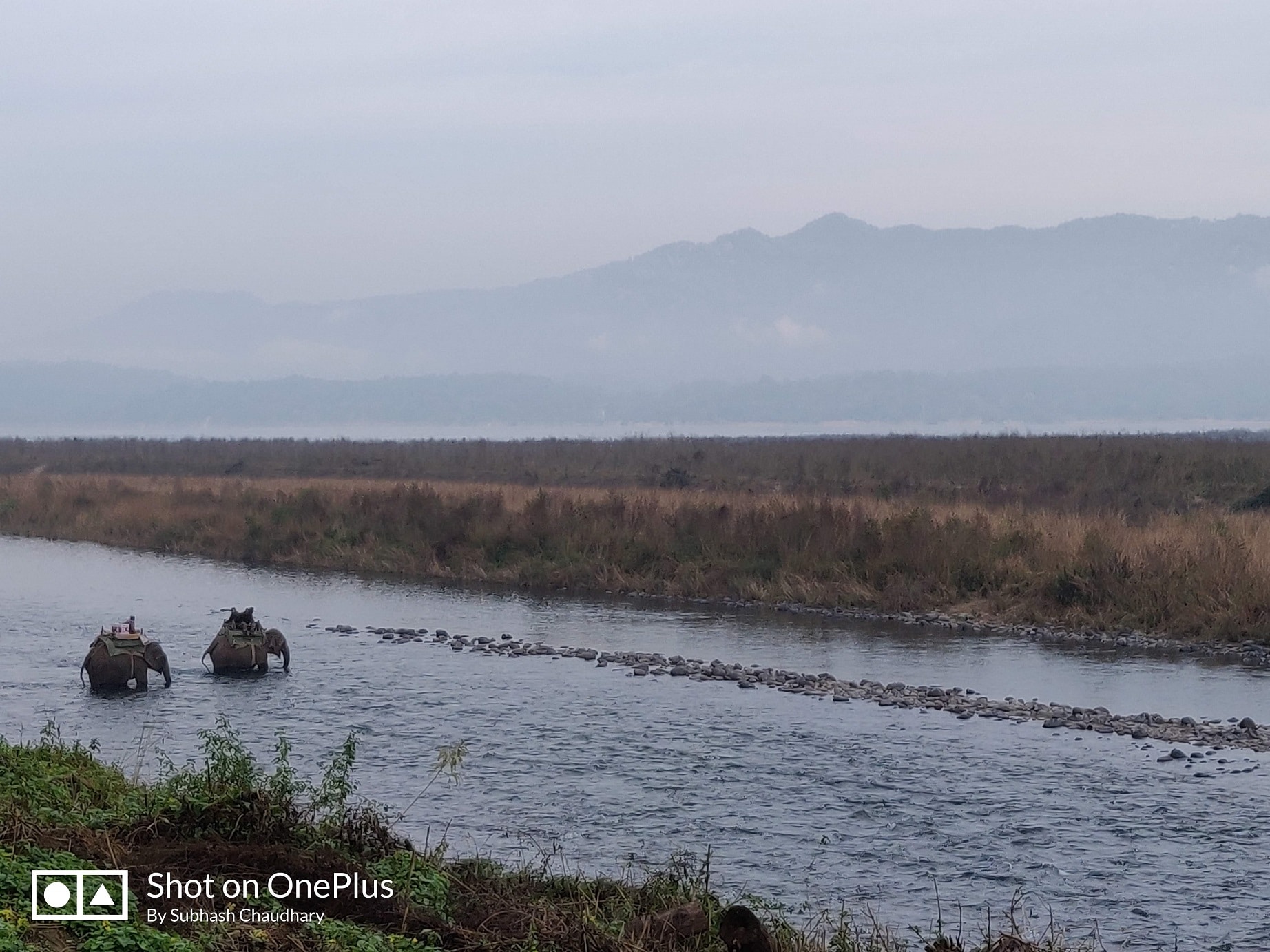 After a few hours of my research, I come to know that the best Forest rest house in Jim Corbett national park is the Dhikala Forest Rest House inside the Dhikala zone which is accessible from the Dhangarhi gate.
And I get deeper and deeper and soon after a few days I have completed knowledge about accommodation type, cost and permit booking of Dhikala forest rest house.
But the problem is the park was closed due to monsoon season the time I was doing all this so I have to wait for 15th November to book my first stay inside Jim Corbett forest rest house.
Soon November comes and I booked my permit to stay with one more person ( Vikas- my uncle from the village) and we get to the park wow amazing super exciting I was.
So our first-night stay is an outside park in Bijrani camp ( runs by Bisht Ji ) as we reached one night before at Ramnagar by bus from Dehradun.
The next day our jeep with driver arrived inside Bijrani camp on time to pick us up for Dhangarhi gate and this is the day I was waiting for 6 months.
Soon after breakfast in Bijrani camps and jumped to the jeep and reached Dhangarhi gate after 30 minutes journey where we show our permit and do formality.
We start our second phase of a journey of 30 kilometres inside the core Forest from Dhangarhi gate to the dhikala Forest rest house.
This 20 kilometres journey almost took 2 hours and normal people start at 11 am from Dhangarhi gate which ended up around 1 pm in Dhikala forest rest house.
Just after we reach there we fill the reception register with all details and permit numbers and then we check in to the Dhikala dormitory because we booked the dormitory for both of us.
The caretaker guy there introduces us to everything and I was also checking and understanding everything with all excitement. I was also bombarded with many questions that satisfied my mind.
We put our bags there inside the dormitory and went to the dining room which is attached to the open kitchen and did our buffet Lunch 😋 which was really delicious and went for a little relaxation and we also have to leave for the evening jeep Safari in Dhikala zone.
Soon our jeep is ready and the gate is open for the evening Safari around 2 pm and we are again ready for 3 hours jeep the Safari around Dhikala Forest's rest house.
Around 30 Jeeps were there inside the campus.
We come back from Jeep Safari around 5 pm and we again have to inform the recreation that we are back and then we directly went to the washroom as our mouths and head are all filled with sand.
It is almost dark by that time and we change clothes and went to the dining room for dinner this is the Only time we chit chat and relax and meet other visitors there.
There is one wood stand outside the canteen also known as High Bank as from here one can see very far in the grassland with ram Ganga reservoir. Believe me, this is one of the most beautiful views I ever had in my life.
After dinner, we walk inside the dhikala Forest rest house and check the area as I have to understand the map inside and the position of all accommodation types in dhikala.
And then went to the dormitory and sat in it and talked with other people staying with us in the same dormitory as one dormitory has 12 beds total.
Soon we charge our phone and camera 🎥📷 and went to our bed after preparing it.
It is quite difficult to sleep there as the bed is a bit tough like a railway coach bed 🛌 but after some struggling finally had little sleep and then soon early in the morning we woke up in the dark around 5 am as we have to be in the jeep around 6 am for morning jeep safari.
After 3 hours of jeep safari from 6 to 9 am we collected our belongings and checked out from the dormitory and beaded towards Dhangarhi gate for exit.
We reach Ramnagar bus station around 1 pm and from there we took the direct bus to Dehradun which drop us here the night.
I am also a YouTuber and I recorded all this complete journey for YouTube .you can watch my video there and don't forget to subscribe to this Youtube channel as I keep exploring Uttarakhand and around.
Also, Read –Mundiyapani-forest-rest-house
Video From Dhikala Jim Corbett
Video From Dhikala Jim Corbett
To Book Tour in Jim corbett Park Or Rajaji National Park Stay and Jeep Safari
Direct WhatsApp Contact – Click Here
Read our other Articles – Best River Side Resort in Rishikesh
Subscribe to Our YouTube Channels for more Rajaji National Park Information