Rajaji National Park Ticket Price May vary from Gate to gate. Rajaji National Park Has 6 Entry gates.
chilla gate
Mohand gate
Ranipur gate
Jhilmil gate
Motichur gate
Asharori gate
Every gate has different entry charges ranging from 2500 inr 5000 depending upon the number of tourists in the jeep safari.
The maximum no of tourists who can sit inside a jeep safari is 7. one beside the driver and the other six can adjust on both the back seats.
Rajaji National Park Ticket Price is a combination of 3 Different charges
jeep safari charge
Road Fee For Jeep
tourist Entrance Fee
Jeep Safari charge is approx 2000 inr to 2500 inr Same in both the cases for indin and foreigner tourist.
jeep Road Fee  is also fixed 250 inr for Indian tourist and 500 inr for foreigner tourist
The entrance Fee Per Person is 150 for India and 600 for foreign Tourists.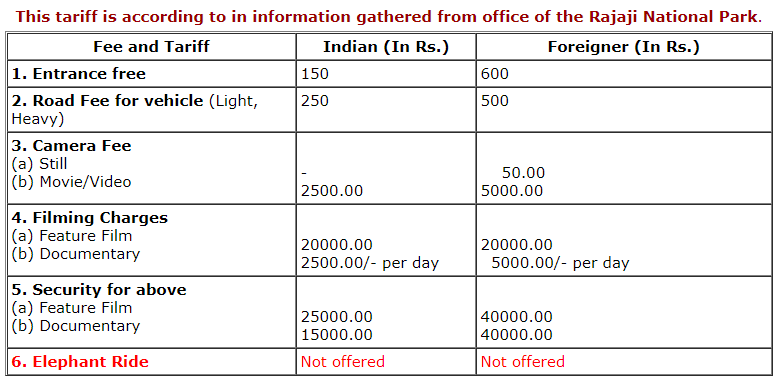 It is a 2-3 hour safari by jeep, in the morning (gate open: 07-09 hrs) and evening time (gate open 3-5 hrs) in which you can experience the jungle. Rajaji National Park is a Known tourist destination located in Uttarakhand, India. The area is mainly famous for the Asiatic Elephant Reserve. The main carrier options around the reserve are jeep safaris. Private vehicles are not permitted inside the reserve forest, a point to be noted while traveling to Rajaji. In Rajaji, you can get a possibility to see spotted deer, sambar, wild boar, tiger, panther, barking deer, goral, two types of bear, Himalayan black and sloth, and more than 400 bird species making Rajaji National Park ideal wildlife. Make safaris—bird watching places.
YouTube Video of the Resort
Please Subscribe to Our YouTube Channel
To Book Rajaji National Park Stay Or Jeep Safari
Direct WhatsApp Contact – https://bit.ly/3wPUC9p
Or Call Directly at 9760385133
Read our other Articles – Best River Side Resort in Rishikesh
Subscribe to our YouTube Channel for more Rajaji National Park Information