The 1890-built Halduparao Forest Rest House is 50 kilometres away from Kotdwara. After entering through the Vatanvasa gate, a 10-kilometre drive on a woodland road is required. It offers tourists a panoramic view of the river and the surrounding trees because it is at an elevation of 385 metres on the right bank of the Palain River. The FRH is older than a century. However, the new structure was created so that tourists may remain there. The entire area has impressive wilderness. Nearby to FRH is where the Palain (Sonanadi/Golden river) river runs. You may get a clear river view from the little watch tower on the FRH property. Most animals can be seen consuming liquids, gazing, and playing around the Palain (Sonanadi/Golden) river.
Mobile Network at Halduparao Forest Rest House
There is no cellphone network (Forest Department Wireless is available in case of emergency)
Electricity Facility at Halduparao Forest Rest House
Only solar light, typically utilised in the evenings, is powered by electricity.
How to Reach How to Halduparao Forest Rest House
Firstly you must reach Kotdwar city, which is well connected with a road and Train network from all major stations including the national capital Delhi. The Gypsy is mandatory to go to Halduparao FRH. However, you can take your vehicle to Vatanvasa Gate and park at the entry gate. Gypsy (Jeeps) are provided for transfer and jungle safari from Kotdwar city. Click on the below link for Gypsy booking.
Both the Domunda Tourism Zone of the Corbett Tiger Reserve and the Sonanadi Wildlife Sanctuary in the area have FRHs. The Vatanvasa gate leads to Halduparao, the sole FRH in the Sonanadi Sanctuary. Within Corbett National Park is the FRH at Kanda. On the outskirts of the Sonanadi Sanctuary, the FRHs of Morghatti and Pakhro are accessible from Kalagarh and Kotdwar. The Domunda Tourism Zone of the CTR, which can be accessed via the Durgadevi gate ahead of Ramnagar, is home to the FRHs of Lohachaur, Rathuawadhab, and Mundiyapani. While Mohaan is 30 kilometres in advance of Ramnagar, the FRH of Kalagarh can be reached close to that city. Shiwalik Terai's excellent forests, covering 301.18 sq km, are the home of Sonanadi Sanctuary. The name Sonanadi means "river of gold" in Arabic. Before the region was designated as a sanctuary, gold panning was done in the river.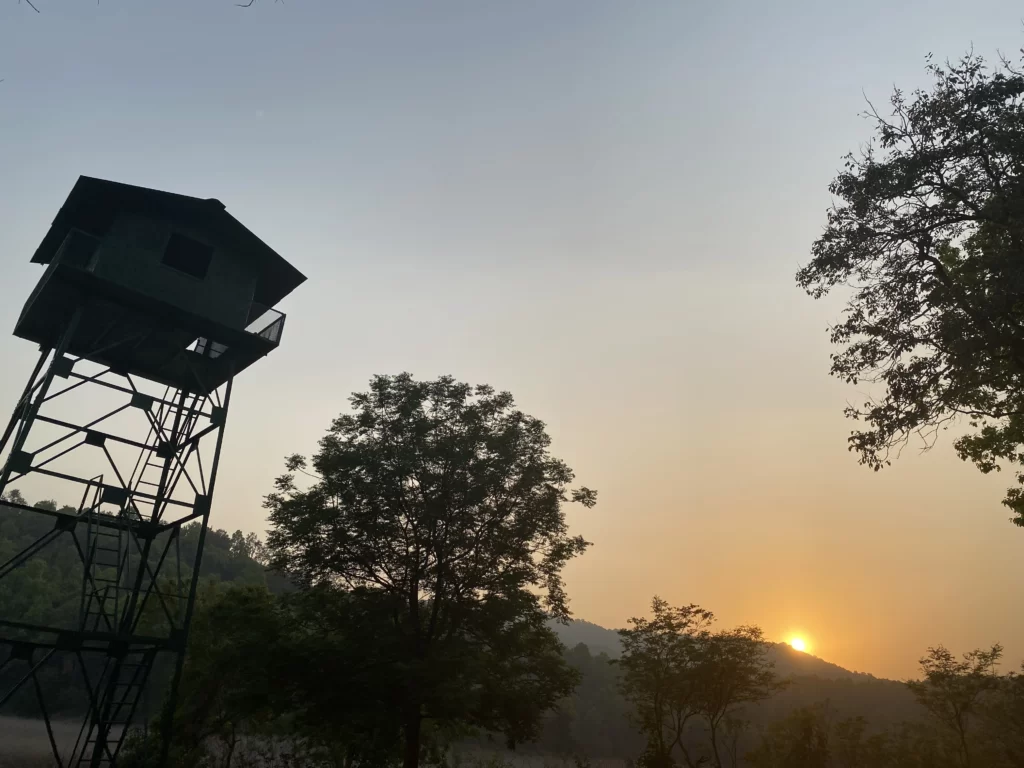 Halduparao Forest Rest House Booking
Halduparao Forest Rest House can be booked online and as well via an agent. This FRH can be booked 1 week before the visit and most of the time Saturday and Sunday are not available before 15 days also due to heavy demand on weekends.
Hi, I am Subhash Chaudhary I am a Youtuber who Record Videos Of Jim Corbett national park and jeep safari. you can also find the link of my youtube channel and video i recoded during my haldupurao frh night stay.
i went there from dehradun so i started my journey in the morning and reached vatanvasa gate of sonanadi wildlife sanctuary which is also a part of Jim cobett national park. there i met one jeep driver name sushil ji from near by local village called doundiyal village. he pick us and show permit at vatanvasa gate of jim corbett which leads towartds haldupurao FRH.
but before we start out journey to haldupurao i want to tell you we have purchased some rashan food for out dinner, lunch and breakfast as tourist have take there own raw materials to hand over it to the cook there at FRH. This happens only with few FRH inside jim cobett like mundiyapani, rathudhab, halduparao etc but not with DHIKALA FRH, bijrani or GAIRAL FRH.
we directly went to our halduparao frh and take some rest before we start out evening safari . we have done 3 hours of evening safari and also saw some elephant ground and all king of deers and birds.
and had such an amazing peaceful sleep as there is no disturbance but tiger roaring and night jar sound whole night from nearby forest.
next day we again take early morning jeep safari and than breakfast before we chack out from Sonanadi Wildlife Sanctuary. after we get outside from park and reached back to doundiyal village where we get down from jeep. we suddenly start checking our mobile signals as we were without it since 2 days.
this trip was unforgettable and really a life time experience for us. i suggest you to have a look on my videos too and i you wish to book this night stay you can contact me also CLICK HERE TO CONTACT
VIDEO FROM HALDUPARAO FRH TOUR
Video of Cliff Jumping and Rafting in Rishikesh
To Book Rafting Camping Tour in Rishikesh and Jim corbett Park Or Rajaji National Park Stay and Jeep Safari
Direct WhatsApp Contact – CLICK HERE
Read our other Articles – Best River Side Resort in Rishikesh
Subscribe to Our YouTube Channels for more Rajaji National Park Information