Manila, Uttarakhand (Kumaon)
Manila Uttarakhand Located in the Almora district of Uttarakhand, Manila is in the middle of dense green forests. It has the spectacular beauty of the mighty Himalayas. It is one of those offbeat scenic places that one must visit.
Residing in the lap of the giant Himalayan nature, Manila Gaon is an abode of Manila Devi. It imbibes a sense of calmness among the travelers and does not fall away an inch by its meaning of "enchanting."
Manila remains un-crowded most of the year and is unknown to many. Hindi is the official language here. However, the locals also speak the local Kumaon language. So, communication is not an issue here. 
Manila village offers breath-taking panoramic views of the Himalayas from Trishul to Panchchulli, including Nanda Devi peaks. The golden glow at sunrise and sunset over this range of Himalayas is just enough to fall in love with this lovely yet small village in the Himalayas named Manila.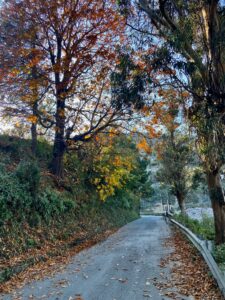 This tiny hamlet of Manila is about 87 km from Ranikhet, Almora. It is the native place of Manila Devi, the family goddess of the Katyuri clan from where the region got its name. This lesser-known place is perched at an elevation of 1,820 meters, snuggled in the Kumaon region of Uttarakhand. The two popular tourist destinations Ramnagar near Jim Corbett, are located about 75 km from Manila, and Marchula, nestled near the banks of Ramganga River, is only 45 km away from Manila. 
Elevation of the Region Manila Uttarakhand
Manila village resides at an altitude of 1820 meters; its elevation is good enough to keep it cooler in summers and relatively cold with snow in winters. About 2-3 feet of snow pours in Manila, and you can consider it the closest place to Delhi to witness snowfall.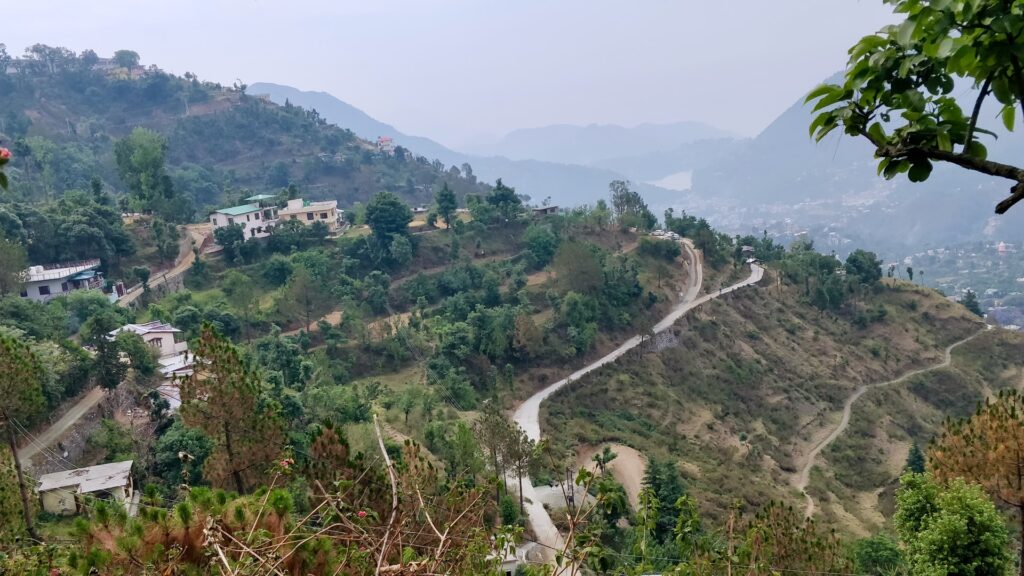 Location Manila Uttarakhand
Manila is located about 85 KMs from Ranikhet in the Kumaon region in Uttarakhand. 
Marchulla, situated on the banks of the Ramganga river and notable for its wildlife tour, is the end of Jim Corbett National Park, which is merely 45 odd KMs from Manila.
Reaching Manila from Delhi
Manila is not that distant from Delhi; therefore, it will be most suitable to travel by road. First, however, let's look at multiple ways you can make a trip to this beautiful place in Kumaon.
Road Trip
The route is –  Delhi – Moradabad – Kashipur – Ramnagar – Jim Corbett – Mohaan – Marchula – Maulikhal – Manila. 
We can also take the road from Nainital – to the Ranikhet zone and depart from this side back to Delhi, which is a lengthier route. However, we suggest you do a trajectory only to enjoy both sides of the course and place.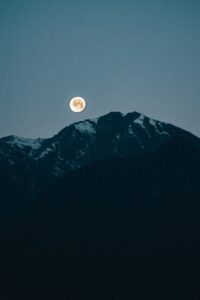 Public Transport Trip
Bus: Ranikhet, about 85 km, is well linked to Delhi with air-conditioned and non-air-conditioned buses readily available from Scindia House, Delhi, and Anand Vihar Bus Terminus. One can also grab a bus to Ramnagar or Marchulla, where you will get conjoining buses to Ranikhet or Bhikiyasain.
Air: The nearest airport is Pantnagar Aiport, about 170 km from Manila.
Train: Kathgodam is around 145 km, and Ramnagar is approximately 75 km which are the railheads near Manila
Cab/taxi: There are a lot of shared taxis running through Manila, connecting significant towns like Ranikhet, Ramnagar, and Haldwani.
Suitable time to visit Manila
You can travel to Manila all year, and the moderate temperature is around 20 degrees Celsius over a year. The summers are relaxed, while winters can be rather chilly, with temperatures dipping to zero degrees Celsius.
We had a vast sheet of ice on the windshields of our cars in the morning when we awoke in December. It snows about 2-3 feet in Manila, so take woolens with you while preparing for a winter trip to Manila.
A sample Itinerary for Manila Trip
Manila is where one can absorb yourself into the tranquillity of the area, relax in peace and maybe get to know about the region's local culture by interacting with the locals, who are humble and down to earth.
Delhi to Manila
Enjoy the comfortable 8-9 Hrs drive to Manila from Delhi via the forest range of Corbett National Park, Mohan – Marchula – Dotiyal. Eventually, observe the sunset over the panoramic mountain range in front of you.
Respite in Manila
See the temples and the major attractions in Manila, or take a stroll in the forest. You can drive to Bhikiyasain, about 13 km by foot or 35 odd km by road, where you can see the intersection of three rivers Ramganga, Gagas, and Norara. There is a Quit India Movement Martyrs commemorative at Khumar, around 25 km from Manila.
Manila Mata temple is roughly 6 km toward Dotiyal; there is another temple. Here at this upper temple, locals worship the hands of the goddess.
Lodging options in Manila Uttarakhand
Manila's accommodation options are only in twin block KMVN Rest House in Manila. It is around 4 KMs before Manila village on the road itself on either side. The right flank is a new block, and the left is comparatively old. It is now brought back from the private lease into KMVN. The old block also has pretty good big rooms with running hot water.
The views are just excellent from the old block as it offers the valley views and Himalayan range view. Apart from this, there are a couple of basic homestay-type houses, a dhabha, and a night-stay place.
Major Attractions around Manila Uttarakhand
Manila is a little village in Uttarakhand to appreciate the tranquil nature around you and enjoy peace with your dear ones. One can also understand the local culture by interacting with the villagers. However, if you wish to examine more around the village, you can visit Ranikhet, Kausani, Jim Corbett, or Nainital.
You may also see Bhikiyasain, about 13 KMs by foot or 35 odd KMs by road, where you can witness the convergence of three rivers, Ramganga, Gagas, and Norara. There is a remembrance monument of Quit India Movement Martyrs at Khumar, about 25 KMs from Manila. The drive from Mohaan to Manila and Jainal is unique. 
There are additional shops/dhabhas to eat in Manila village down the hill.
You should invariably carry your water bottle and refill it as often as needed. It will keep you hydrated and help save our Himalayas from plastic trash. Remember, every small step counts; your step in this direction can help keep the Himalayas. 
Medical Facilities
Apart from a village health center, the ambulance services number is 108/1090. Therefore, one is advised not to rely on it heavily but always keep the number handy.
For any crisis, you may require to go to Ramnagar/Kashipur or Haldwani/Almora for treatment. Hence, we advise you to carry your basic medical kit, which you usually need during any trip to the Himalayas.
Mobile signal connectivity in Manila Uttarakhand
Nearly all the service providers have their range in Manila. Nevertheless, it is always best to have BSNL when touring in mountains or the Himalayas as they provide an incredible range in secluded areas. Similarly, one can discover several STD/ISD telephone booths in Manila village.
Gas Stations
On the route to Kausani – Gwaldam from Manila, Dwarahat has a petrol pump. Yet, don't bother much about fuel because unless you reach an empty tank in Manila, you will find a gas station for yourself nearby, and you will not get deserted.
ATM Kiosks
While driving to Manila from Delhi, Maulikhal has an ATM at about 25 KMs from Manila village.
Other Tips for a Comfortable Trip Manila Uttarakhand
GPS is booming in this area, but you cannot ever rely on it. Hence, we always suggest assistance from shopkeepers and passers-by for directions whenever you are disconnected. Also, double-check the guidance from a couple of people.

Always carry some spare woolen clothes. 

Take some medicines that you may constantly need during a journey. You can contact the medical ambulance and police at  

108/1090

; save this number with you for any such case.

You can also carry a medical kit.

Downpour in the monsoon and snowfall in winters, so prepare your clothing mindfully. The road might also get shut due to heavy landslides for a day or two.

If you are particular about Liquor brands, then you should bring your own as there is no availability of some brands.

While in Uttarakhand, purchase some packets of buns (if you like them) every day you start. They are quite a valuable companion for tea on a roadside tea shack. 
Manila – A Quiet Hamlet
Manila in Kumaon is quite a novel and offbeat destination in Uttarakhand. Such places are better off without commercialization or tourist activities, which mainly damage the looks of these unusually peaceful places. So, when you traverse up there, we request that you understand your responsibility towards nature.
Manila is one of the rare places that can give you a breather from the bustling metropolis life, and you will enjoy spending quality time with your loved ones there in the lap of nature. It is a stunning place that brings you back in time. So, step out and participate in the magic of this site, where you can partake in the lower Himalayan hills at their best.
If your friends or family are scheduling a trip to Manila, share this article to help them make an unforgettable Kumaon trip.
To Book Jim corbett Park Stay Or Jeep Safari
Direct WhatsApp Contact – https://bit.ly/3MBDKJ7
Or Call Directly at 9760385133
Read our other Articles – Best River Side Resort in Rishikesh
Subscribe to our YouTube Channel for more Rajaji National Park Information