Subharti Hospital Dehradun – The Gautam Buddha Chikitsa Mahavidyalaya's affiliated teaching hospital, the Dr K. K. Bhatnagar Memorial Hospital, offers a wide range of medical care in several disciplines at steep discounts. The hospital houses top-notch medical facilities under one roof. The 24-hour emergency and trauma treatment facility are in operation. The hospital has large wards, modern major and minor operating rooms, a well-equipped nursery ward for preterm infants, intensive care units, and an accident and trauma centre. The ICUs are outfitted with cutting-edge therapeutic, monitoring, and therapeutic technology, and certified paramedical personnel are on duty 24 hours a day. The hospital offers advanced therapeutic and diagnostic resources. The hospital has a central lab that is well-equipped to conduct all histology, cytopathology, haematology, immunological pathology, microbiology, biochemistry, and other speciality specialist investigations. The hospital's pharmacy offers modern, ethically sound medication at a reasonable price. In addition, the pharmacy provides round-the-clock assistance to the teaching hospital's outpatient, emergency, and other patients.
The Gautam Buddha Chikitsa Mahavidyalaya is situated in Uttarakhand's capital city's lush valley. It is a part of Ras Bihari Bose Subharti University, Dehradun, and is located on its expansive campus. It is fitted with the most modern audio-visual teaching tools. The Gautam Buddha Chikitsa Mahavidyalaya is committed to offering students top-notch medical care and first-rate educational resources. Pre-clinical, para-clinical, and clinical departments are available at the college. By NMC standards, the Central Library is adequately stocked with volumes and national and international magazines of the relevant disciplines. The renowned faculty at the Gautam Buddha Chikitsa Mahavidyalaya is dedicated to their work and actively engaged in research, teaching, and training.
The departments of anesthesiology, anatomy, biochemistry, community medicine, dermatology, forensic medicine and toxicology, general medicine, general surgery, microbiology, obstetrics and gynaecology, orthopaedics, otorhinolaryngology, pathology, paediatrics, physical therapy and rehabilitation, psychiatry, physiology, radio-diagnosis, and respiratory medicine are all present and well-equipped in the college. Every department is created and established by National Medical Commission standards (NMC).
Subharti Hospital, Dehradun phone number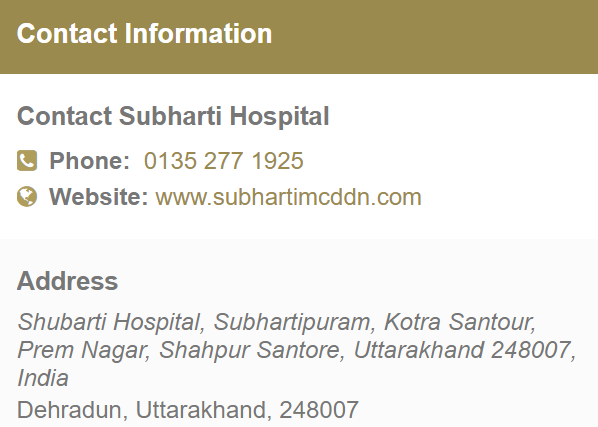 Video of Cliff Jumping and Rafting in Rishikesh
To Book Rafting Camping Tour in Rishikesh and Jim corbett Park Or Rajaji National Park Stay and Jeep Safari
Direct WhatsApp Contact – CLICK HERE
Read our other Articles – Best River Side Resort in Rishikesh
Subscribe to Our YouTube Channels for more Rajaji National Park Information