Rajaji National Park is famous for which animal? lots of people are curious about this question and I want to tell you that Rajaji National Park is spread over an area of 820.42 sq. km and is famous for many wild animals like-
1. Asian elephants.
2. Indian Leopard
3. The Indian muntjac is also called "barking deer"
4. The chital or cheetal is also known as chital deer, spotted deer, or axis deer
5. The Indian hog deer (Axis porcinus)
6. The Indian wild boar
7. The sambar (Rusa unicolor) is a large deer native to the Indian subcontinent.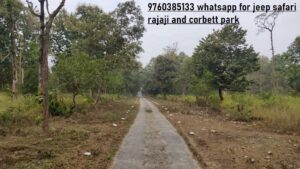 Rajaji National Park is famous for which animal?
so I hope by now you got the answer to this famous question that Rajaji park is famous for which animals.
I live here in Dehradun, Rishikesh, and Jim corbett most of the time. As I am a Wildlife enthusiast and famous Youtuber from this area with lots of jeep safari experience in Rajaji.
if you are looking for a jeep safari inside any of their park here below is my direct WhatsApp number and I am just one click away from you.
Rajaji national park is related to which animal?
Bengal Tiger-only few like 2-3
Asian Elephant – approx 420 elephants
Leopard. – in a huge number
Goral. – huge number
Striped Hyena. – very few
Indian Hare. – in a huge number which can only be seen in this night.
Himalayan Black Bear.- only a few are present. hardly watchable.
safari at Rajaji national park
Rajaji national park safari booking
To Book Rajaji National Park Jeep Safari Here Below is Whatsapp Link
Rajaji Park Mohand Gate Jeep Safari Video
And Also Don't Forget To Subscribe My Youtube Channel From The Above Video
Also, Read My Other Articles on Rajaji Park Forest Rest House