Madmaheshwar Temple Trek
 It was October 2019 and we (Abhishek Ji and me) planing to visit anywhere for trekking actually not anywhere Abhishek Ji is a hardcore devotee of shiva and he uses to visit the Badrinath temple trekking each year and also during monsoon there was a shiva festival when all the shiva devotee in the saffron colour march towards Haridwar and Rishikesh (Neel Kant temple) and he never miss the chance to ride all pilgrimage (Yamunotri, Gangotri, Kedarnath and Badrinath) so Abhishek Ji mind inclined to do a Madmaheshwar Temple Trek only as he never visited there and this will gonna be a new experience for him and Madmaheshwar Temple is also one of Kedar among panch Kedar of shiva.
Out of the considerable number of sanctuaries devoted to Lord Shiva, the bunch of five sanctums of Shiva is the most loved. They are known as Panch Kedar. As indicated by Mahabharata, when Pandavas were looking for Lord Shiva, he transformed himself into a bull to stay away from discovery. In any case, when Bheema attempted to catch the bull, it vanished and later returned in body parts at five areas, by and by known as Panch Kedar.

The mound returned at Kedarnath, the arms showed up in Tungnath, the navel showed up in Madhyamaheshwar, the face appeared at Rudranath and the hair and head showing up in Kalpeshwar. The Pandavs assembled sanctuaries at these five spots for revering Shiva.
Ok, now back to our story – After we decided the Madmaheshwar Temple Trek. Abhishek Ji and I start asking from our friends and relatives who can also join us in this spiritual pilgrimage Madmaheshwar Temple Trek journey in Abhishek Ji 5 seater sedan car ( Hyundai Xcent ) so that we can divide the expenses and can make a team for a safer trip.
It takes us 1 week to make a final team, during that time many people enters and Exit from our Team and finally we go with 7 people – 3 are we (Abhishek Ji, Akhilesh Yadav Ji ( Abhishek Ji friend from New Delhi) and myself. In another car of Ajay Mittal Ji (Abhishek Ji friend  ( tata Nexon ) have 3 more friends of Ajay Mittal Ji.
We plan to carry a small LPG cylinder and rice with some spices and oil to make and eat ourself as this saves money as well make the trip more enjoyable and unforgettable.
We started early morning around 7 am from Dehradun and we reach Rishikesh within 1 hour around 8 am and then I hire 2 trekking sticks from one adventure shop in Rishikesh Tapovan and without wasting time we moved ahead towards Ranshi village( starting point of Madhmaheswar temple trekking) where we have to reach somehow by same-day evening.
So after crossing Rishikesh our car slowly starts crossing Shivpuri, Bayasi, Kodiayal, Devprayag and reached Srinagar around noon 12:45 and took our Lunch there at a famous restaurant called Rajhans restaurant which is situated just opposite of GMVN Srinagar ( Uttarakhand).
In October 2019 the work of widening the road as a project called 4 dhaam corridor work under India's Centra government was in Full Swing and also railway tunnel-digging work was in full swing ( Rishikesh-Karn Prayag railway line) that's why we stuck in Traffic jam 4 to 5 times or we could have reached Srinagar 30 minutes before our time.
But we face all this traffic jam due to construction work till a place called Kun- which lies just before ukimath.
So after doing lots of fun during out ride whole day we finally reached our destination ( Ransi village) exact at 6:10 pm and without wasting much time we start our hunt to find an economical and comfortable homestay and luckily we found one very easily as that time not much tourist in October except few tourist west Bengal.
Quicky we unload our bags and small LPG cylinder stove and utensils for cooking our breakfast next day and we decided to eat dinner made by the homestay owner family and really the dinner was delicious as they made chapati over a wood fire.
That day we enjoy much, we do bone fire while dinner. we hire 3 rooms as 2 rooms are not sufficient for 7 people. Somehow we 3 managed in a single room but other 4 people split into 2 people in each room.
As full moon day is near those days so we can clearly see the full moon coming from behind the mountain. We sleep on time and next morning wake up early on time as quickly finished out the chorus and made some rice vegetable in cooker we carry and Collect all belonging and by the 8 am we start our trekking for Madhmaheshwar.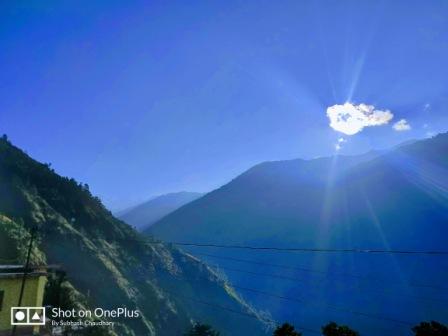 We parked our car just near the tracking starting point to Mad Maheshwar temple which is 1 km more ahead of Ransi Village. that day was the sunny day perfect condition we carry over a small bag which we have to carry till temple and our rest big bag and other belongings we don't need during tracking for two days we leave in the car behind and we take out our tracking sticks and start walking towards the temple at 8:00 a.m. and after walking exact 2 hours 10 minutes we reach over 1st village ( Gaundhar village) we encounter on the way @10:10 am and after taking some snacks and resting for 30 minutes we again start moving towards mad Maheshwar temple.
We can see the next village glimpse ( lower bantauli) from gaundhar village itself . It is on the lower height as compared to the gaundgar village and also resides beside the tributary of two rivers ( Sangam) called morkhanda and Nandakini river. Morkhanda river coming from Chaukhamba parvat ( glacier ) side and nandakini river coming from Nandi parvat ( glacier) and at the village – lower bantauli they both meet together and form a big river called Madmaheshwar Ganga or Madhu Ganga. There is a huge iron bridge connecting both side of the river so that villagers can have a connection with the world and Madmaheshwar temple visitors can also visit temple easily.
And after leaving from lower Bantouli Village exact at 11:44 am we reached next village called Upper bantauli exact after 1 hour (12:44 pm) and we also took 5 minutes Break on resting chair in between.
Upper bantauli village has approx 2 or 3 family houses only and one Forest check post.
Here we took almost 1 hour 15 minutes in Upper bantauli village as we take rest on the grass and took made by a local family and drink fresh local cow milk.
So, around 2 pm we started our journey of Madmaheswar temple trek again. on an average, our gap of taking rest is of 10 minutes after every 20 minutes walk.
There is another small village with a lodge after 15 minutes walk from Upper bantouli village and then there is quite a long gap in next village means around 4:30 pm we finally found one single house cum lodge and a small shop inside and owner of that house calling us and requesting to stay there but without stopping there we decided to keep walking.
And next shop with a house cum lodge we reached around 5:25 pm called Kun Chatti (Shikhar prince hotel) run by a lady. there we eat biscuits and drink milk and after resting 25 minutes we move ahead around 5:45 pm. People told us this is the last house before Madmaheswar Temple and we know we will reach Madmaheshwar temple around 8 pm. so this is gonna be toughest part of out Madmaheswar temple trek as this stretch is of 2 hours 15 minutes in the dark and inside reserve forest full of wild animals.
But the good thing is one Himalayan dog(Pahadi dog) joined us from Kun chatti and after at one time we also encounter one wild animal like big different kind of deer but that dog runs furiously behind him, that moment was really thrilling. we also saw one big snake in wavy motion crossing our path from the right side to left.
We clearly see the full moon and we keep walking without stopping much as it was really dark and we are the only trekker left alone and behind in the forest as our other group already reached Madmaheshwar temple. Finally Exact at 8 pm we reached our destination-The great Madmaheshwar Temple.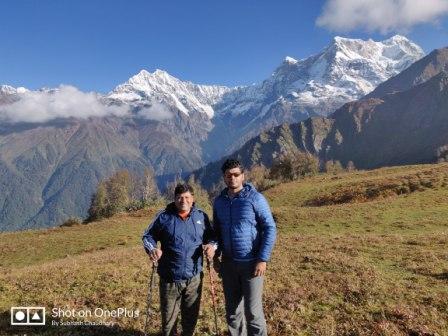 After reaching there we search our group and take dinner and go for sleep as we have to get up early next day to visit Buda Madmaheswar because if we don't go there early we would have gonna miss the clear visibility of Chaukhamba glacier – Chaukhamba is a mountain massif in the Gangotri Group of the Garhwal Himalaya
So the next day we wakeup around 6:15 and start Buda Madmaheshwar Temple Trek and reach on the Top after 2-hour Trekking and how we feel it is Phenomenal picturesque scenery. I am putting some pictures belove.
After spending  45 minutes at Buda Madmaheswar temple we start declining towards main Madmaheswar temple and while returning we just took 1 hour 15 minutes as compared to 2 hours we took initially.
without wasting must time we bath and visit the temple with the offering and later we took our breakfast and start our returning Madmaheshwar Temple Trek exact at 12 noon.
this time also we stop at many shops to eat and relax and finally reached our car by 8 pm approx and without wasting much time we directly returned to Ukimath city at 9 pm and found a hotel and after dinner, we sleep and next morning we start driving towards Dehradun and reached Dehradun by evening.
So this was mine 4 days Madmaheshwar Temple Trek 2019-An awesome trip from Dehradun to Dehradun
local child
she is cute little daughter of the women serving us food at Gaundhar village.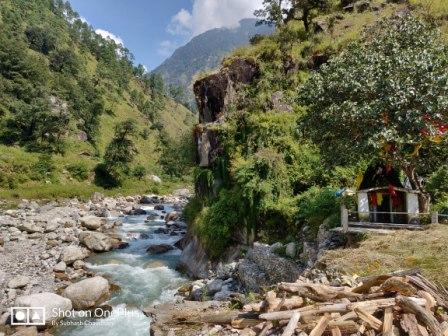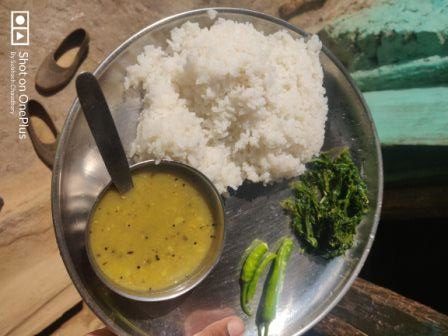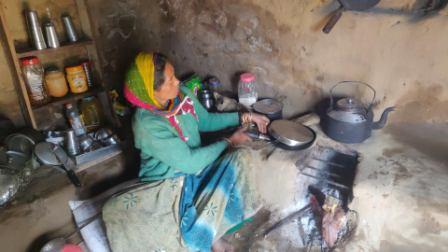 Also, read my https://thepuresoul.in/village-life-in-india/
and watch Madhmaheshwar vlog- https://youtu.be/I4iwd3UPPEs