Kalsang Mussoorie –  You can sample wonderful Tibetan and Thai foods in this location. The restaurant is renowned for both its delectable food and its top-notch service. It is now a popular place to hang out and eat momos, Thukpa, etc. The Mall Road, Survey Colony, Kalsang Restaurant, Mussoorie, Uttarakhand 248179
An acclaimed Chinese and Tibetan restaurant with locations in Dehradun, Mussoorie, Chandigarh, and Delhi is also known as "Kalsang Friends Corner." You can sample wonderful Tibetan and Thai foods in this location. The restaurant is renowned for its mouthwatering cuisine as well as its top-notch service.
View the menu at this restaurant after visiting Mussoorie Christ Church. Thai and Chinese cuisines are particularly well-known at Kalsang. Here, you can always eat perfectly prepared fried vegetables, cheese noodles, and garlic rice. Try some scrumptious brownies and premium ice cream. Check out some tasty beer or a fantastic mojito with mint. You can choose from delicious ice tea, chocolate shakes, or ginger tea.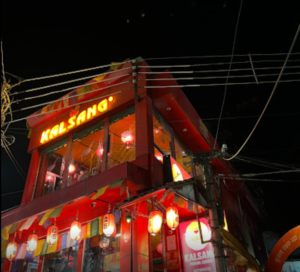 To make things easier for its clients, this restaurant offers food delivery. The dedicated, upbeat crew makes this place wonderful by working hard and remaining optimistic. This restaurant's outstanding service is a major asset. The reviewers believe that the pricing is reasonable. You will enjoy Kalsang's exquisite furnishings and inviting atmosphere. Google has rated this location 4.2 out of 5 stars.
Some Customer Review online about Kalsang Mussoorie
I have many happy memories of Kalsangs, but I am saddened to discover after a few years that the mood has changed. There has been a decline in service quality. My Thupak will be divided into two bowls, the waitress decided. I was dissatisfied that the waiter chose that course of action without my input. Not awful food was served. The beverages were the last thing to be served, which disappointed me. There wasn't much meat in the mixed meat Thupak that I had ordered. Overall, it was a terrible and depressing experience. I won't be coming back.
Video of Cliff Jumping and Rafting in Rishikesh
To Book Rafting Camping Tour in Rishikesh and Jim corbett Park Or Rajaji National Park Stay and Jeep Safari
Direct WhatsApp Contact – CLICK HERE
Read our other Articles – Best River Side Resort in Rishikesh
Subscribe to Our YouTube Channels for more Rajaji National Park Information