ISKCON DEHRADUN Devotees of Krishna often visit here to have an immersive spiritual experience. They feel the energy of Krishna Consciousness here. One can attend classes and courses here on major shlokas of Bhagwat Geeta. The quiet and serene beauty of the place transports one into a zone of self-reflection.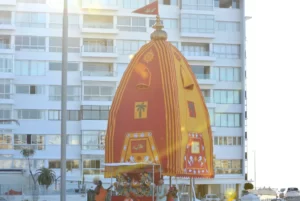 ISKCON DEHRADUN Timings to Visit

:

Sunday         –    4am-9pm

Monday        –    4am-9pm

Tuesday        –    4am-9pm

Wednesday  –    4am-9pm

Thursday     –     4am-9pm

Friday          –      4am-9pm

Saturday     –      4am-9pm

Sunday        –      4am-9pm
ISKCON – A BRIEF HISTORY
International Society for Krishna Consciousness is commonly known as ISKCON. It is the Hare Krishna movement or Hare Krishnas that aims to develop Krishna consciousness in one and all.
ISKCON is a sect that has faith in Vaishnav religious sentiments. It was established in 1966 in New York by A. C. Bhaktivedanta Swami Prabhupada. 
Its root beliefs base themselves on Hindu scriptures, specifically the Bhagavad Gita and the Bhagavata Purana. ISKCON is "the most extensive and, indeed, most important branch" of Gaudiya Vaishnava's custom. This custom has had followers in India since the early 16th century.
ISKCON came into existence to spread the practice of Bhakti yoga, the course of love of God in which those involved (bhaktas) commit their beliefs and activities towards pleasuring Krishna, whom they deem the Supreme Lord. Its most immediate expansion in membership has been within India, Russia and other previously Soviet-aligned states of Eastern Europe.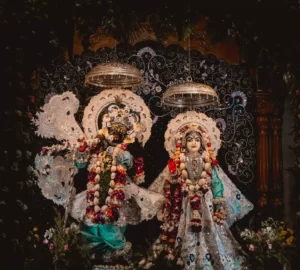 ISKCON asserts to have about one million congregational associates worldwide.
Saint Chaitanya Mahaprabhu spread his euphoric bhakti throughout Bengal, later known as Gaudiya Vaishnavism. He used to do Sankirtan, the method of publicly expressing fondness for Lord Krishna, the Supreme God. In addition, he used to sing and dance. This form of collective worship reacted to rigid caste systems by engaging all people in prayer. People would participate in these religious meetings regardless of caste and creed. Chaitanya stressed chanting the Hare Krishna Mahamantra. Gaudiya Vaishnavas consider him to be an embodiment of Krishna himself. 
In 1965, Prabhupada carried Chaitanya's Gaudiya Vaishnavism to the West. At 70, he came to New York with merely 40 Rupees of Indian currency in his pocket. He didn't cater to the elite in the city; instead, he tapped into the 1960s neo-countercultural energy by orating and chanting in public parks and drawing hippies and the young. His "Hare Krishna Movement" expanded even more significant when he resettled in San Francisco after some time.
Indian Traditional Meditation Way video Guide
To Book Yoga Retreat in Rishikesh India
Read our other Articles – Best River Side Resort in Rishikesh
Subscribe to our YouTube Channels for more Rajaji National Park Information