Big news for those coming to Corbett National Park, now they will not charge any Entry Fee for children in Corbett National Park
There is big news for the lovers of jungle safaris in the world-famous Corbett National Park. No entry fee will be charged for children up to 18 years of age who come here. Their admission will be free. The exercise for this has also been started by the department. The departmental website for booking permits online is being updated.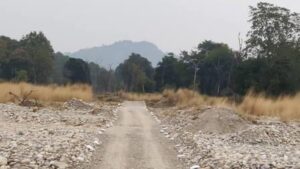 In October, Chief Minister Pushkar Singh Dhami had announced on the occasion of Wildlife Week that children up to 18 years of age would not be charged an entry fee in the National Park of Uttarakhand. After two months, now the Corbett administration has started preparations to implement the Chief Minister's announcement. The online permit booking website for tourists is www.corbettonline.uk.gov. Officials have asked NIC to update on these.
The website will be updated by NIC in such a way that the entry fee of tourists will be deducted, but the entry fee of their children up to 18 years will not be deducted by the website. The maximum benefit of this gift will be the children coming into the school group. They will no longer have to pay their admission fee.
Let us inform you that the entry fee for Indian tourists on a day safari in Corbett Park is Rs. Director of Corbett Tiger Reserve Rahul said that children up to 18 years of age will be given free entry in the park. NIC has been asked to update this on the website. Soon the children's entry will be free. Whatever detailed mandate comes in this regard, the website will be updated accordingly.
I am also a YouTuber and I recorded all this complete journey for YouTube .you can watch my video there and don't forget to subscribe to this Youtube channel as I keep exploring Uttarakhand and around.
To Book Rajaji national park or Jim Corbett National Park Jeep safari.
To Book Rajaji National Park Jeep Safari Here Below is Whatsapp Link
Rajaji Park Mohand Gate Jeep Safari Video
And Also Don't Forget To Subscribe My Youtube Channel From The Above Video
Also, Read My Other Articles on Rajaji Park Forest Rest House