RISHIKESH BEACH– Rishikesh, the world's yoga capital, is an ideal escape if one wants to spend some days away from the hustle-bustle of the mundane life. Situated in the foothills of Garhwal Himalayan Range on the banks of the sacred river Ganga and presents stunning Himalayan views. It is famous for pilgrimage, yoga, and adventure sports. This place has something for everyone – a person looking for spiritual relief, a lone wanderer trying to probe the city differently, or a bunch of adventure buffs. Rishikesh is the origin of the well-known Char Dham Yatra. It is a spot of unadulterated spiritual training where you can participate in a peaceful holy atmosphere. Furthermore, the blessed view of Ganga Aarti is not to be missed.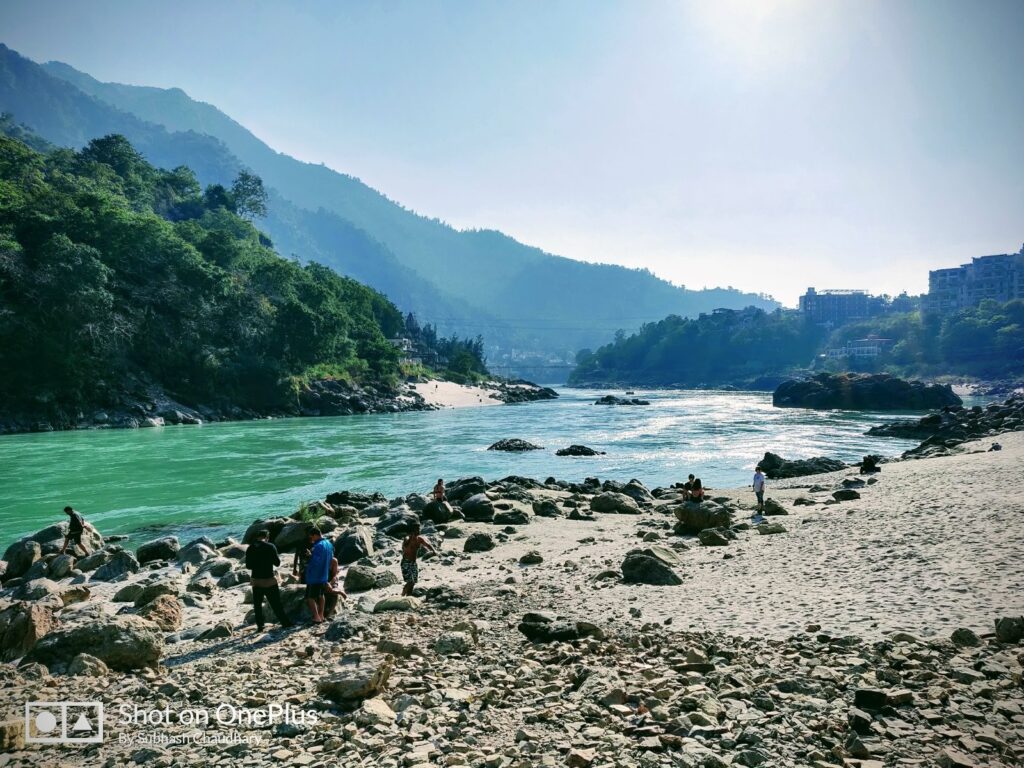 Yoga enthusiasts can partake in the International Yoga Festival arranged by the Uttarakhand Tourism Development Board. There are numerous Yoga Ashrams where one can rehearse meditation. Moreover, one can enjoy adventure sports like white water rafting, backpacking, hiking, rock climbing, kayaking, camping in Rishikesh, rappelling, etc. Beach camping is the most pleasing way to uncover nature's unspoiled magnificence and relish its peacefulness. You can plan a quiet camping escape and bond with nature. Nature enthusiasts can hear the sound of waves of the Ganga river. Or dive into the crystal-like water and devour hours in daylight.
The view from the union of white sand and turquoise-colored water is heavenly. The beaches this quaint city offers are sufficient to give you an adrenaline rush. Sunbathing while appreciating a view of shimmering and crystal-like water is the experience of a lifetime. Some beaches are top-rated among travelers, while others are concealed gems. In addition, there are some exquisite beaches having provisions for camps. These are excellent options to satiate adventure lovers.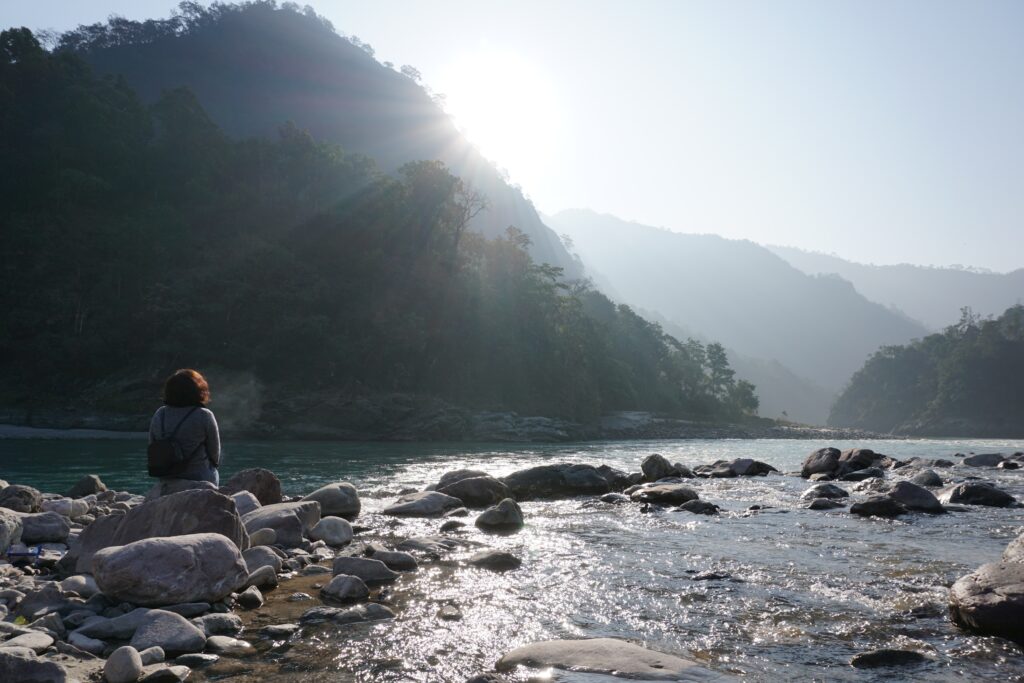 Ramjhula Rishikesh Beach
It is the most famous beach in the city and is nearest to the architectural marvel Ram jhula (the bridge). It is one of the longest and largest beaches in Rishikesh. Amongst the locals, it is also known as the safest beach here. It offers a clear sunset view where the whole city assembles in the evening. The beach witnesses several groups of yoga enthusiasts performing yoga and meditative practices. The chilled waters of our beloved Ganga and the hot sands on the beach immerse one into a unique bond with nature.
Neem Beach
Neem Beach is known as the last point of river rafting in Rishikesh. The most suitable time to reach here is at the daybreak when you can take relaxing, quiet walks. A great place to laze around for some hours during the day while wallowing in the sun.
Marine Drive Rishikesh Beach
Yes, you got that right. Rishikesh has its own unusual Marine Drive. It is a solid drive experience. It is at a distance of 20-odd km from the city. The drive offers one of the quietest and most picturesque driving experiences. Racing parallel to the sacred river added with the green Himalayan landscape; the view ought to engage you, relax your pace, or possibly even pull over. The road links Rishikesh to Byasi, a friendly tourist stop, and then to Devprayag and Badrinath.
Goa Beach
As the name implies, the sand stashed on the Goa Beach corresponds to that in Goa. It is a great place to see if one likes to have fun posing on the beach. You can relish splendid sea beaches in Rishikesh itself. This white sand beach is a prominent picnic spot where you can see many tourists sunbathing. The surrounding area is lovely, and a stroll gives one a similar feel as in Goa. The chilly evening breeze makes this place more soothing and beautiful.
Until a few years ago this beach used to be a popular visitor site among foreigners only but slowly more people started arriving here. So now you can see many Indian travelers coming here as well.
Sachcha Dham Beach
It is a great place to refresh your soul and feel revitalized. You can discover people performing yoga here or meditating. At the same time, some others find it perfect for sunbathing.
Famous for its calmness and holiness, Rishikesh is an antique town on the banks of the river Ganga and covered by beautiful jungle-clad hills. It has been the center of religious and spiritual activities for a long time. Tourists coming here, apart from pilgrimage, have a lot of other activities like yoga, trekking, and river rafting to indulge in.
There is a long list of places to visit in Rishikesh, including Gita Bhavan, Triveni Ghat, and Parmarth Niketan Ashram. Also, two famous iron suspension bridges, Ram Jhula and Laxman Jhula, are one of the famous landmarks of this city. People say that Lord Shri Ram and Lakshman traversed the holy river Ganga following the paths where people developed bridges later. When in Rishikesh, one can even go temple-hopping. The most renowned temples are the Neelkantha Mahadev temple, the Tryambakeshwar temple, and the Shri Bharat Mandir.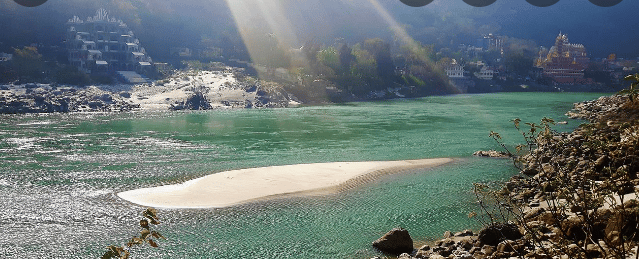 Kaudiyala Beach
This beach is one inclusion that you must have on a Rishikesh tour package; then this is it. Kaudiyala is a small village located 40 kilometers from Rishikesh. The rafting zone stretching from Kaudiyala to Shivpuri is one of the most adventurous, so this enthralls many adventure lovers. Kaudiyala Beach has beautifully situated on the banks of river Ganga. It is famous for white river rafting and night camps. audiyala (or Kodiyala Beach) boasts a fun and adventurous natural environment. This beach is considered the best location for beach camping with some magnificent landscapes. This beautiful camping site lets you spend your night gazing at stars alongside the gurgling waters. The most suitable time to enjoy this place's magnificence is between March and June.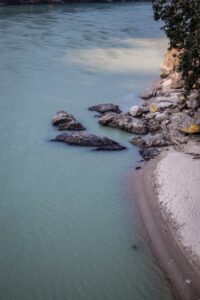 Ganga Rishikesh Beach
The wilderness this beach offers is perfect for nature lovers and explorers. The beautiful shimmering waters of the Ganga, a star-filled twilight sky, and lush green surroundings sound like an excellent idea for spending quality time soaking in the natural beauty. It works like magic for city-weary people.
Shivpuri Rishikesh Beach
This beach is one of the most famous ones among visitors. Stretching through to Vashishta Cave, the voyage to this beach is picturesque and gentle to the eye. With sand of a white shade and tranquil blue waters, Shivpuri Beach is one of the most stunning places in Rishikesh. The attractiveness of this place is no less than relaxing therapy.
Goa Beach Rishikesh Video
Goa Beach Rishikesh Location
Best time to visit this beach in Rishikesh
Neem beach can be visited any time, but the best time is daytime. In winter during sun time but in summer early morning or the evening. This beach temperature is high during summertime, and there is no tree around to sit under.
BUT I would like to suggest my beach, Ram jhula beach. Ram jhula beach is just beside ram jhula, and in the evening, many people gather for music, yoga, and games. The sunset there is mesmerizing.
Rajaji national park safari booking
To Book Rajaji National Park Jeep Safari, Here Below is Whatsapp Link
And Also, Don't Forget To Subscribe to My Youtube Channel From The Above Video or here https://www.youtube.com/subhashchaudhary
Also, Read My Other Articles on Rajaji Park Forest Rest House